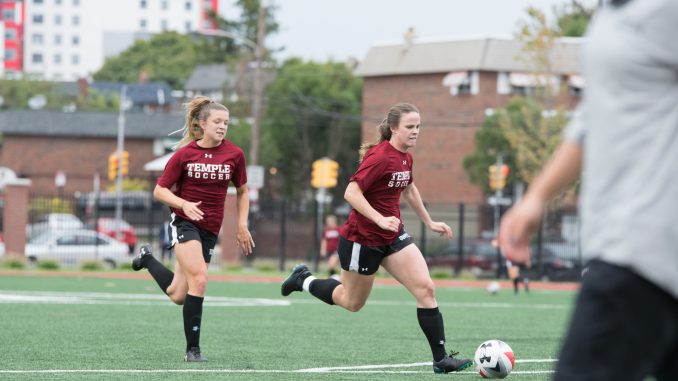 With the postseason looming, the Owls are on the bubble.
Temple went 1-1-1 from Oct. 8-15 and sits in sixth place in the American Athletic Conference standings. Six of the league's 10 teams make the conference tournament, which begins on Nov. 1.
Last season, Temple didn't win a conference game and missed its conference tournament for the first time since 2012 when the Owls were in the Atlantic 10 Conference.
"We know we're good enough to make the playoffs," said senior midfielder Elana Falcone, who played on playoff teams in 2014 and 2015. "I definitely try to put last year in the past, but I think it's still there a little bit as some extra motivation."
Temple will play the two top-ranked teams in The American — South Florida and Central Florida — on Thursday and Sunday in Florida. Then the team will play Connecticut, which is ranked one spot ahead of the Owls.
"It's amazing," coach Seamus O'Connor said. "When the girls talk to their parents or their friends or any outside noise, you'd think we were completely out of it. We do our best to help them block all that stuff out."
Temple recorded four points in its last three games.
The Owls went into double-overtime against Tulsa on Oct. 8 and finished with a 2-2 draw. The Golden Hurricane sits in seventh place and trails Temple by three points.
Temple followed the tie by defeating Houston, 2-0, on Thursday and losing to Southern Methodist, 2-0, at the Temple Sports Complex on Sunday.
"Every loss at this point is crucial," redshirt-senior forward Kayla Cunningham said. "We all know the goal is to try and secure a playoff spot, and a lot of times games at this point just come down to who makes one less mistake."
Though Temple's three-game stretch didn't go as planned, O'Connor said the Owls are in a manageable position.
"We go into every game expecting to win," O'Connor said. "We knew teams like [Southern Methodist] are still really good just because they played the tougher part of their schedule early. So we're going to have to put this behind us and get ready for this last road trip, which is also going to be really tough."
Falcone, Cunningham, senior forward Gabriella McKeown and senior midfielder Victoria Dutille all played their final regular-season games at the Temple Sports Complex on Sunday.
"Playing at Temple has been a great experience, so it definitely made things emotional," Cunningham said. "Nevertheless, we have to recover and prepare mentally for this final road trip because our season isn't over."
Graduate forward Morgan Glassford also played in her last home game. She played four years of lacrosse prior to joining the soccer team and experienced the pressure of fighting for a playoff spot late in a season.
She had back-to-back seasons with 20 goals or more for lacrosse teams that made the Big East Conference tournament in 2016 and 2017. The Owls are "going into every game with the mindset of having to win," Glassford said.
O'Connor said the players may have lost some confidence after falling behind during their loss to Southern Methodist. He wants his team to keep the same mentality it had against Tulsa. The Owls made up one-goal deficits twice to earn a point in the standings.
"We're going to talk as a team about that because we know we'll be faced with similar situations the rest of the way," O'Connor said.
Note: The Temple News cited an American Athletic Conference publication that misstated the number of teams that qualify for the postseason. This story has been updated to reflect the correct number of playoff teams.