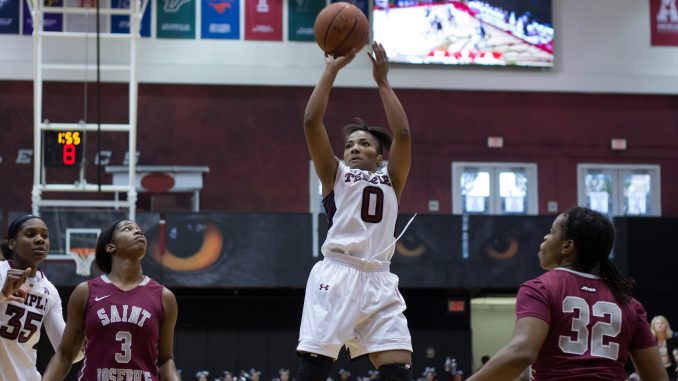 When the Owls boarded the team bus Nov. 22 for their first game of Thanksgiving Break against Rutgers University, they felt ready to notch their third win of the season.
After a 2-0 start, Temple has dropped three straight games by a combined 19 points to fall to 2-3 on the season.
"Right now, we need to figure something out," coach Tonya Cardoza said. "Because the way we're going, this is not it."
Temple's latest falter, a 70-67 loss Sunday to Saint Joseph's, showed similarities of its previous two losses.
The Owls limited Quinnipiac University to 34.5 percent from the field in the team's 58-56 loss Nov. 24. Rutgers and St. Joe's both shot better than 40 percent from the field.
"If you want to win the basketball game, and if you're passionate and hungry about it, you find a way to do it," Cardoza said. "You don't just let it slip through your fingers, and I think that's what we've been allowing to happen."
Cardoza noted her squad loses focus toward the end of each practice, which showed toward the end of its loss to St. Joe's, where the team blew a 14-point lead and was outscored 24-13 in the fourth quarter.
"A lot of times during practice, after an hour and a half, they start to tune out," Cardoza said. "We're not paying attention and not starving to get a win."
The most notable issue for the Owls is the contribution for players outside sophomore guard Alliya Butts and junior guard Feyonda Fitzgerald.
The duo has scored 53.4 percent of the team's total points this season.
"When Alliya and [Feyonda] are the only ones getting the ball, everybody needs to step up," sophomore guard Tanaya Atkinson said. "Once everyone plays their role, things will look up, but that has to start in practice. We just need things to carry over and be disciplined."
Junior center Taylor Robinson, who scored three of the teams six points outside of Butts and Fitzgerald against Rutgers, also thinks she and her teammates have to play with confidence and not rely on Butts or Fitzgerald to carry the offensive load.
"We have to win and be more disciplined," Robinson said after the loss to Quinnipiac. "Because we're not more disciplined is the reason we lost."
Junior center Safiya Martin has started all five games this season and has accumulated 14 points, but during the Owls games against St. Joe's, Martin was benched in favor of graduate center Ugo Nwaigwe, who played 21 minutes compared to Martin's 18.
Cardoza said she was impressed with Nwaigwe's effort in practice and defensive contribution in games. But Cardoza is still undecided whether she will bench Martin in favor of the 6-foot-3-inch Valley Stream, New York native for Wednesday's game against Villanova.
"Safiya just needs to rebound the basketball and be a presence," Cardoza said. "If Ugo continues to improve, she will continue to play. She is paying attention and doing all the little things we are asking of her. I am hoping she continues to do that because then you have someone else to depend on."
Fitzgerald understands the struggles surrounding her teammates, especially for senior guard Erica Covile, who played 11 minutes and fouled out against St. Joe's.
After being second on the team in scoring last season with 11.4 points per game and totaling a team-high 8.3 rebounds per game, Covile is averaging 8.4 points per game an 4.8 rebounds per game this season.
"We're just focusing on trying to turn around right now," Fitzgerald said. "We're in a bad place."
Mark McCormick can be reached at mark.mccormick@temple.edu or on Twitter @MarkJMcCormick.