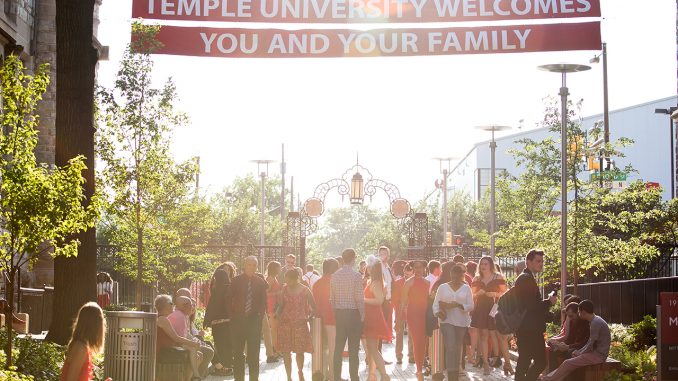 For May 2018 graduates, finishing final exams and walking across the stage to receive their diploma in the same week can be a trying time, but also exciting.
Dana Synoski, a senior strategic communication major, said this bittersweet feeling is largely due to how many positive memories she has made while at Temple.
"The university has given me a lot over the years," Synoski said. "So I think it's important to now be able to give back and stay involved as I start my career."
For those of you who can relate to Synoski, the Temple University Alumni Association can help you stay connected to your inner-Owl post graduation, starting as soon as this month.
TUAA has a long list of events lined up for alumni, including graduating seniors during Alumni Weekend. Each year, the alumni association hosts an event-packed few days to bring together alumni and recent graduates to celebrate all things Temple.
This year, Alumni Weekend kicks off on May 18 and continues through May 20. Throughout the five-day celebration, events like Temple Made Happy Hour and Morning Mimosas with Marquis bring new and old alumni together.
The fan-favorite of Alumni Weekend is Dîner en Cherry, based off of the European Dîner en Blanc. The fourth annual Dîner en Cherry is a giant pop-up party for Temple graduates offering food and drinks. The Alumni Association hosts the party on Main Campus every year, but never reveals the location until the night of the event.
Dîner en Cherry attendees arrive dressed in cherry and white colors and meet at a specified location on campus to experience the location reveal, each year following a different theme. Once the location is revealed, the attendees walk to the party together, celebrating with alumi and enjoying drinks, themed food and music.
Dîner en Cherry is scheduled for May 19 at 6:30 p.m. Discounted tickets are available for young alumni and the Alumni Association recommends registering online before the event at alumni.temple.edu/alumniweekend before the event sells out. General admission tickets are sold for $45, but 2018 graduates can purchase their tickets for $20.
Temple Made Happy Hour, a night out at one of Philadelphia's most popular pizza restaurants Porta on Chestnut Street near 12th, includes pizza, craft cocktails, beer and wine. The event takes place on May 18 from 6:30 to 8 p.m.
Alumni are also invited to join their peers at HipCityVeg 214 S 40th St. on May 19 at 8:30 a.m. for "Morning Mimosas with Marquis." The inaugural "Temple Made Me" event is hosted by Nicole Marquis, TFMA '05 and owner of HipCityVeg, Charlie was a sinner and Bar Bombón.
So instead of feeling heavy hearted as you leave campus, stay involved! Synoski, who is graduating in a mere few days, advises all 2018 graduates to "keep involved with the university no matter where your career takes you," as she realizes the importance of staying active in the Temple community.
All 2018 graduates are encouraged to participate in Alumni Weekend as their journey officially begins as Temple alumni. Register for Alumni Weekend and use #AW18 to celebrate your accomplishments and connect with fellow Owls for the first of many revisits to Temple after graduation day.