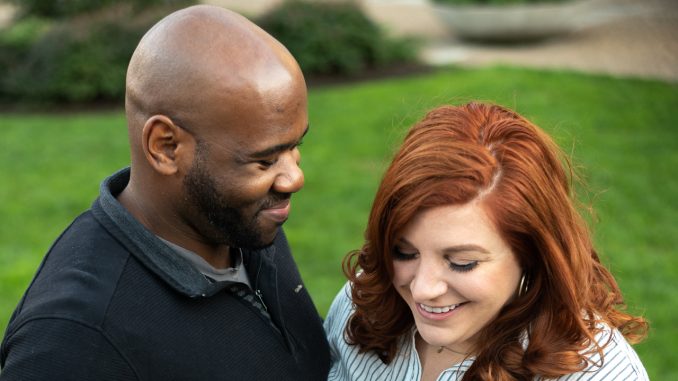 Jenna Nicolosi thought she was being photographed for a Philadelphia Inquirer story about millennial dog owners.
That was until her boyfriend Ray Boyd got down on one knee outside of Paley Library.
Before accepting the proposal, Nicolosi asked Boyd, a 2013 journalism alumnus and the Inquirer's audience engagement editor, if the article was fake.
"I never questioned the validity of it for a minute," said Nicolosi, a 2014 criminal justice alumna. "There was no better way to get me on board, excited about [it] and not question a story that would involve our dog."
The fake-photo-shoot-turned-surprise proposal featured the couple's dog, Dexter, and occurred last month.
Boyd said he chose to propose on Main Campus because the couple first met at Maxi's, a bar and eatery on Liacouras Walk, while the two were students.
"I wanted the place to have meaning to us," Boyd said. "Since we met there, I felt there was no more significant location than that."
Boyd discussed with his colleague, Inquirer staff photographer Tim Tai, how to incorporate Dexter into the proposal. They decided to make up the article about the challenges millennial owners face as "pet parents" in the city.
About a month before, Boyd said he asked Nicolosi if she wanted to be featured in the article's photo gallery.
"She bought that story right when I told it to her," he added. "I first told it to her [in] late August or early September, and she bought it. So at that point, it was about layering on elements to that story."
Nicolosi was so intrigued by the article idea that she asked Boyd if she could be interviewed too. So he staged a phone interview with another colleague to make the story seem real.
Nicolosi said the whole ruse was a rare instance in which she was truly surprised.
"Nobody could have known me better than him, in order to pull this off," she added.
Nicolosi and Boyd have known each other for six years. They met at Maxi's on Oct. 12, 2012, when Nicolosi was a junior and Boyd was a senior. Nicolosi had been invited to a get-together at Maxi's by a roommate who worked with Boyd at WHIP, Temple's student-run radio station.
They said that night was the beginning of a friend group they both remain a part of, even after graduating and moving in and out of Philadelphia.
"We were sort of what we needed for each other, at the time in our lives that we needed it," Boyd said.
Boyd and Nicolosi made their relationship official on Oct. 12, 2015, exactly three years after they met.
He added that at the time, he wanted a close-knit group of friends, but always felt closest to Nicolosi.
In late 2014 into 2015, the two became closer, calling each other to share what was on their minds and talking constantly even when they didn't see each other in person, Nicolosi said.
They each debated whether to cross the friendship-to-romance line. Now, the two said they never saw the other as "just a friend."
"I just always assumed that, if the opportunity was there and the opportunity was right, there could definitely be something more," Boyd said.
In the engagement photos, Nicolosi stands holding Dexter and smiling down at Boyd, who is on one knee, holding an engagement ring and smiling back at her.
Tai said he felt excited and nervous to keep an eye out for the proposal during the shoot that transitioned from photographing a fake story to engagement pictures.
"There were a couple times where I thought Ray was going to do it, and then I would kind of hint that he should go for it," Tai added.
Tai found Nicolosi's initial disappointment over the fake story funny and was happy the couple made the proposal work in a spot special to them, he said.
Looking back, Nicolosi said it's interesting the way their relationship worked out.
"I had no way of knowing that six years later I'd be engaged to the best person I'd ever met," she added. "I didn't know I'd meet the most amazing person I've ever met within the first eight weeks of being [at Temple]."