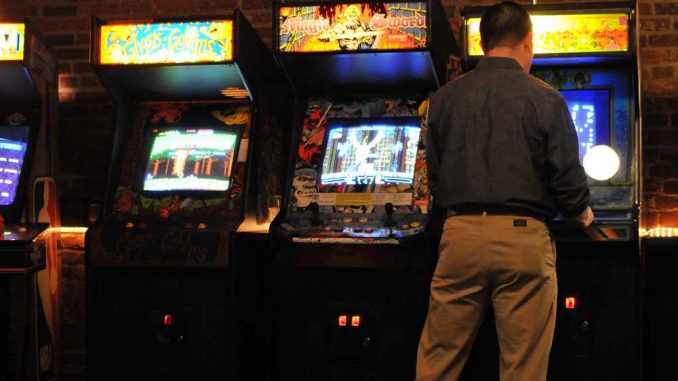 The lights are dimmed, and the music is blaring. Although drinks are flowing freely, bar patrons' faces are lit up for entirely different reasons. Some of those popular reasons go by names like "Burger Time," "Galaga" and "NBA Jam."
Barcade, located at 1114 Frankford Ave., aims to serve customers as a combination of a friendly neighborhood bar as well as a friendly neighborhood arcade. Within the shell of a former electrical warehouse, Barcade houses roughly 35 refurbished arcade cabinets, from big names like "Donkey Kong" and "Ms. Pac-Man" to fan favorites like "Rampage" and "Smash TV," all costing 25 cents per game.
The Philadelphia version of Barcade is the third of such establishments, with the first opening in New York City in 2004 and second in Jersey City in 2011. The Philadelphia branch opened soon after.
Bartender Neira Jackson sees patrons drawn to Barcade evenly for its collection of old video games and robust selection of craft beers.
"It definitely depends on the day, but on Sundays especially, I see a lot of people walk straight past the bar to the video games," Jackson laughs. "But on Friday and Saturday nights, it's more of a 50/50 split."
Near the "Asteroids" machine, Jay Rodriguez, a Barcade first timer, was grinning widely at the sight of all the games assembled.
"I'm from Brooklyn, and I had heard of the Barcade there, but this is pretty incredible," Rodriguez said. "I'm a big fan of '80s video games, and [Barcade's] got almost everything."
The lack of admission charge for the arcade half of Barcade is a draw to patrons. Rodriguez turned back to attempt to destroy as many asteroids as possible, and as the night wore on, he would eventually play nearly every game, a testament to the pull an arcade can still conjure.
Manager Sean Hallion prides himself on Barcade's beer selection, noting that Barcade is "strictly a draft beer bar, with no bottles or cans." Current favorites with patrons include Southern Tier IPA and Dogfish Head Raison D'Etre, though it'd be best to check with the website before you go, as the drafts are switched each day.
Nate Gullo, a 2007 alumnus and Barcade first-timer, was excited to visit because of the bar's wide selection of microbrews. He did, however, have a problem with its lack of name brand beers.
"I tried to order a Miller Light, and they didn't have them or any light beers," said Gullo, who was at Barcade for a friend's 30th birthday.
Coupled with fancy beers, Barcade offers variations of standard bar food, with "$1 Taco Mondays" and "$2 Slider Tuesdays," both popular among regulars. The rest of Barcade's menu deals entirely in assorted finger foods like Cuban Pork sandwiches and Korean-spiced cheesesteaks, the other is furiously moving a joystick.
Barcade also is available for community events. People can rent out Barcade for a few hours at a time for parties or employee get-togethers.
Barcade itself holds beer-related events frequently, often inviting different brewing collectives to show off their wares, such as Clown Shoes Brewing from Massachusetts. On April 4, there will be a similar event with Weyerbacher Brewing. The bar has also been known to partner with its friends down the street in Art Machine Productions, most notably holding an after party for an art showing the tattoo shop held in July. It hasn't held many video game-centered events as of yet but is open to ideas.
Another marker of Barcade's independent-mindedness is its commitment to being environmentally sound. As with the other locations, Philadelphia's Barcade strives to be eco-friendly, from its use of biodegradable materials to its electricity, which is powered by wind tunnels.
Barcade has exclusively vintage arcade cabinets from the mid '80s to the early '90s, which means no pinball machines or "Dance Dance Revolution." The fact that there's a bar – playing lots of Black Sabbath, no less – in the next room, allows patrons to be an adult and to challenge for the high score of "Ms. Pac-Man" at the same time.
Kevin Stairiker can be reached at kevin.stairiker@temple.edu.