The 181st District in the state House of Representatives will elect a new representative this year with a primary election on May 15.
The seat is currently held by state Rep. Curtis Thomas, who is retiring in November. Thomas has served as the state representative for the 181st District — which encompasses Main Campus — since 1988.
There are several candidates running for Thomas's seat.
ALEX DEERING
One of Deering's primary focuses is improving public education. Education is "a huge key to help people break the cycle of poverty," he said. In the past Deering was a servant leader for the Children's Defense Fund Freedom Schools program, where he helped inner-city youth on reading and language skills. He later worked for Washington, D.C. public schools and managed the scholastic arts and writing grants for the school district.
Deering studied political science at Temple until his junior year, but is not currently enrolled. Deering also serves as a Democratic Committee Person for the 16th Ward, 6th Division Registered Community Organization and has worked in community service for 10 years.
Deering uses his platform to also advocate for the LGBTQ community.
"As an out, unapologetic, Black gay man, I have dedicated my life to ensuring unfettered access and opportunities for all communities," Deering wrote in a statement to The Temple News. Deering was recently a panelist at a national LGBTQ conference and has encouraged the mayor's Office of LGBT Affairs to hold community conversations in North Philadelphia.
Deering also focuses his platform on closing private prisons and increasing access to health care. He said this comes from his previous work at North Philadelphia's Einstein Hospital where he would assist patients with no insurance to obtain medical benefits.
Deering said he is against Temple's proposed on-campus football stadium.
"The community is not for the stadium, and I'm definitely against the stadium," Deering said. "I'm very aware and have been connected to what's been going on and watching it very closely because it directly affects me and the division that I am the committee person of."
He added it has been an "absolute pleasure" to see Temple students unite with the community against the stadium.
MALCOLM KENYATTA
A 2012 public communications alumnus, Kenyatta was recently endorsed by Thomas to fill his seat. Kenyatta and Thomas are distant cousins. Kenyatta is also a longtime North Philadelphia resident.
Kenyatta began his activism at age 11 when he ran for junior block captain, he said. His campaign focuses on public education and economic growth.
"For too long, our communities have been held down and held back," Kenyatta told Temple News in February. "Together we can unleash their possibility."
Kenyatta believes the minimum wage must be raised in order to help Philadelphia's low-income population. He states on his website that raising the minimum wage from $7.25 to $15 an hour is a "necessary fix."
Kenyatta opposes the proposed on-campus stadium. He believes it would make the relationship between Temple and the North Philadelphia community "more tense."
LEWIS NASH
Nash, another life-long North Philadelphia resident, began his career in construction and is currently a member of The Laborers' International Union of North America Local Union 332. He has also been a pastor since 1999 at Faith & Deliverance Church, on Stiles Street near 15th.
Nash's platform focuses on promoting a better quality of life in North Philadelphia. Nash founded the nonprofit Mankind Against Poverty in 2000, which works to provide services to those in need. He also co-founded the Philadelphia Interfaith Coalition, which works to bridge the gap between schools and community developers.
Nash said his interest in politics began when Louise Bundy, the chairperson of the 47th ward, encouraged him to run for block captain in 2005.
One of Nash's goals is to "bridge the gap between the university and community," he said.
Nash added that he would like to bring cooperative housing back into the community so Temple employees can afford to live in the area.
Nash said he is undecided about the university's proposed stadium.
"Without development, there is no development," Nash said.
But overall, he said he is on "the side of the people" and will make decisions based on his constituents' needs.
"I will be elected for the people, by the people, so I have to do what the people decide," he added.
MILTON STREET
Street, the only Republican in the race, began his career as a street hot dog vendor. His activism began when he challenged city ordinances on vending and housing. Street is the brother of former Philadelphia Mayor John Street, who is currently a political science professor.
Milton Street was previously elected in the 181st District as a Democrat in 1978, before switching to the Republican party in 1980. He later ran for a seat in the United States House of Representatives in 1982, but was not elected.
In 2008, Milton Street was sentenced to 30 months in prison for failing to file federal tax returns for three years.
"People may talk about the fact that I served time for three counts of failing to file taxes, but I have paid the price and have seized on the opportunity it afforded me to recommit [myself]," he said.
Milton Street's platform focuses on increasing funding for public schools in Philadelphia. If elected, Street would like to install video-gaming machines, specifically bingo, in places like airports and hotels in order to generate revenue for public education. Milton Street said this is the same plan he had in 1982. In another effort to increase funding for education, Milton Street wants to legalize recreational marijuana.
Of the proposed on-campus stadium, Milton Street said he stands with the community.
"The community doesn't want it, the students don't want it, I don't want it," Milton Street said. "If they don't want the stadium, then I'm mandated, because they elected me, to support that position."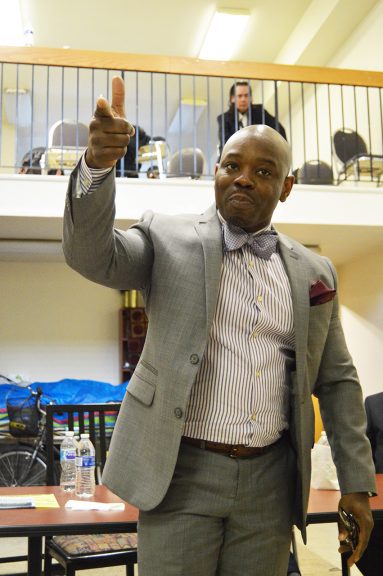 LEWIS THOMAS III
Thomas has run twice before in the 181st District, making this his third campaign for the open seat. Thomas grew up in North Philadelphia and has two children, ages 6 and 17. He currently serves on the executive committee of the 14th Ward Registered Community Organization.
Thomas's campaign message is reclaiming the community, which he said is necessary because of the "tremendous amount of change in North Philadelphia."
Thomas said that North Philadelphia has faced negative changes like gentrification, failing schools, displacement of longtime residents and a lack of resources.
"When we talk about reclamation, we're really talking about dealing with those core issues that really go to whether or not a community," Thomas added.
The Philadelphia Inquirer reported in January 2015 that Thomas lied about accomplishments, like having a doctorate from Howard University and working as a campaign adviser to former President Barack Obama and former Democratic Presidential Nominee Hillary Clinton. Thomas said he had exaggerated his resume, but told The Temple News he never claimed to work with Obama or Clinton.
"I misrepresented my resume by saying that I had completed my doctorate degree, when in fact I had not completed my doctorate degree,"  said Thomas, who was around 20 years old when made the false claim. "It was an error in judgment in my youth, and I learned from that experience. I talk about it all the time with my current students and I share it often."
Thomas believes that Temple should be more committed to the North Philadelphia community and oppose the on-campus stadium.
KENNETH WALKER JR.
Walker is currently a career coach for an organization that empowers fathers to become active parents. He also founded the Cleveland Community Center. He has run twice before — in 2012 in the 197th District and in 2016 in the 181st District.
Walker's platform is focused on public education, job training and providing more public services to the North Philadelphia community.
"Kenneth realized that running for office was the only way he could participate in effective change on a state- and community-wide level to restore confidence in a skeptic democracy," according to his website.
Walker could not be reached for comment, but in April 2016 he told The Temple News that he does not support Temple's proposed on-campus football stadium.
"I believe that sometimes the message [from Temple] is not shared, and that's where a lot of the conflict comes in," he said.