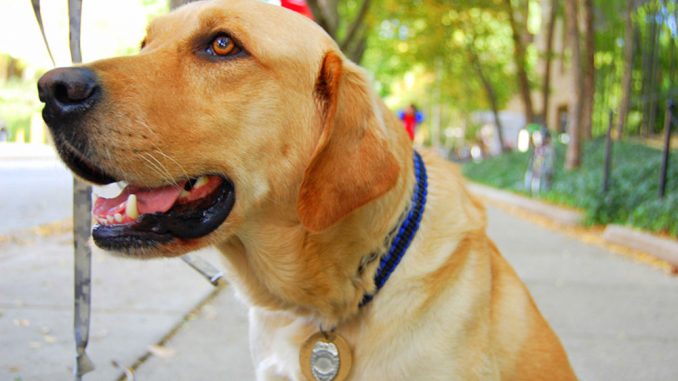 After nearly three years with Temple Police, canine officer Jarvis has a better résumé than most students. 
"We got Jarvis in early 2011, after he graduated from training," said Patrol Operations Captain Denise Wilhelm. "He's been patrolling ever since."
The yellow Labrador retriever is an explosive detection dog, coached to sniff out bombs on campus and city-wide.
"It's pretty intense," K-9 Unit police officer Larry Besa said. "We finished explosive detection training in about 13 weeks. The dogs have to identify 25 different scents of explosives. They're not allowed to miss anything for their final test."
Officers said Jarvis' skillset is well-suited for police work, but he was originally intended to serve the blind. A medical issue helped Jarvis find his true calling.
"Jarvis went through an entire seeing eye dog program [in Morristown, N.J.] and graduated from there," Besa said. "But they reviewed his medical records and said he had too many ear infections. They wash a lot of dogs out over there and put them over to the police side."
Wilhelm said Temple Police received help in choosing Jarvis from the other dogs in the pack.
"We rely heavily on the Philadelphia Police Department," Wilhelm said. "They know dogs better than we do, so they guided us in the right direction [with Jarvis.]"
Besa said the process to find his dog counterpart was easy.
"We basically found the [most hyper] dog out there and went with him," he said. "You want a dog that has a lot of play drive, is able to fetch and shows a lot of interest in a tug toy or tennis ball. That's all that canine work is. The dog isn't trying to find an explosive, he's trying to find his toy."
This means Besa and Jarvis can complete their bomb tests anywhere from an abandoned building or an active school, or on campus in the Liacouras Center.
Despite a strenuous schedule, Jarvis' job does come with some high-profile perks.
"You get to do a lot of neat events," Besa said. "The president came here and we did all the bomb sweeps for that. When dignitaries come, we do those sweeps. It's definitely a lot different than your everyday patrol work."
Special measures are taken to ensure Jarvis is comfortable during his daily routine. All canine cars are outfitted with a "hot and pop" system. If the patrol car ever reaches above 85 degrees, Besa receives a page that the car is overheated while the back windows automatically drop and an exhaust fan turns on. The car's horn also beeps until someone resets the system.
Jarvis' canine car is a home on wheels, fitted with a bed in the back and food and water.
Besa makes sure he is let out of the car every half hour or 40 minutes to exercise and go to the bathroom.
"You got to take care of the dog," Besa said. "It's kind of like having a kid with you in the back of the police car."
While Jarvis is currently the top dog in the canine division, he wasn't the first and officers said he won't be the last.
"Our first dog, Jake, came in the end of 2005," Wilhelm said. "He retired in 2009 when his officer resigned to go to another department."
"We just got Baron, a Belgian Malinois, from Czechoslovakia," Besa said. "He was a bought dog that came fully-trained in patrol work."
Both Baron and Jarvis are specifically trained in bomb detection and criminal apprehension for patrolling to reflect the interests of Temple Police.
"After 9/11, there was a greater emphasis on bomb detection," Wilhelm said. "Our K-9 unit became implemented with that focus. Baron now gives us two bomb dogs and for now that's all we need."
Baron and Jarvis can be used with their partner officers for either criminal apprehension or bomb detection, but both dogs could not be used for outside purposes like drug searches.
"Drug dogs, bomb dogs and cadaver dogs are your three major police department types of dogs," Besa said. "You can't cross-train that. Bomb dogs sit, drug dogs scratch and cadaver dogs dig. For obvious reasons, bomb dogs can't scratch or dig in the event of finding something."
Luckily, Jarvis has yet to encounter a sitting situation outside of simulated training.
"We've used him on different calls, maybe something like an unattended bag," Besa said. "But there of course haven't been any found explosives on campus."
But Jarvis is more than ready for action.
"Jarvis is great," Wilhelm said. "He does a great job in training. He's acclimated well to the university setting. He works hard."
Nobody knows that more than his partner, who said the title of man's best friend is absolutely true.
"I could never go back to not having a dog with me," Besa said. "It's great to have a partner like Jarvis. This is why I got into police work."
Jessica Smith can be reached at jessicasmith@temple.edu.