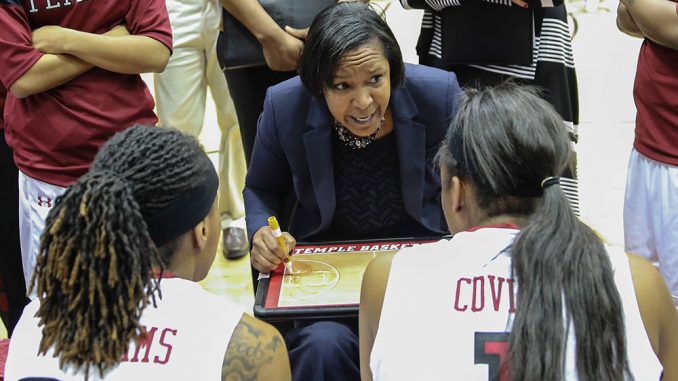 With nine seconds to go and a three-point lead for the Owls, it seemed like Temple had an easy path to victory in fouling Memphis, therefore removing the possibility of hitting a last-second three to tie the game.
However, Temple didn't foul and the Tigers scored the three points they needed with one second left to take Sunday night's game in Memphis, Tennessee to overtime.
"I don't know if we're capable of doing something like [fouling]," coach Tonya Cardoza said. "Because if they go to the free throw line and make one and miss the second one, I'm afraid that they might get the offensive rebound."
Preparing for overtime felt a bit familiar for the teams, as their most recent match-up went into five overtimes.
Luckily for both teams, only five minutes were added to the end of the game, as Temple (9-3, 1-0 The American) beat Memphis 73-67 in the first overtime on Sunday in Memphis. This win marks the beginning of American Athletic Conference play and is the fifth consecutive win for Temple.
The win was Cardoza's 173rd career victory. She passed Dawn Staley as the winningest women's basketball coach in Temple history.
"The last few times we've been here, I think every game has pretty much been in overtime or a close game," Cardoza said. "We knew coming in that it was going to be something that we were going to have to fight for."
Senior guard Feyonda Fitzgerald led the Owls late in the game and added 19 points to her team's total. She also recorded her second consecutive double double, adding 10 assists in the overtime victory. Four of those points came in overtime, as well as an assist to junior guard Tanaya Atkinson that put the Owls up by two possessions with fewer than 20 seconds to go.
"She's a competitor," Cardoza said. "She wants the ball in her hands and I have all the confidence in the world in her. She had a great game. Her stat line is awesome."
Fitzgerald ended the night having spent only three minutes on the bench and was just two rebounds away from reaching a triple double.
Fitzgerald wasn't the only Owl that was having offensive success. Five of the seven players in Temple's rotation hit double digits in scoring. Temple shot 41.8 percent compared to Memphis' 37.1 percent.
Junior guard Alliya Butts, who hit the 3-pointer to put the Owls up nearing the end of regulation, finished the night with 16 points.
Defensively, Temple played zone defense for a large part of the game, which is uncommon for the Owls who generally utilize man coverage. Initially, it worked for Temple, but after Memphis began hitting their shots late in the game, Cardoza switched to man-to-man defense.
Senior forward Ruth Sherrill posted 11 rebounds and 11 points, her second double double of the season. Also having luck on the boards was junior guard Donnaizha Fountain. Fountain finished the night with 10 rebounds and 11 points.
Maura Razanauskas can be reached at maura.razanauskas@temple.edu or on Twitter @CaptainAMAURAca.