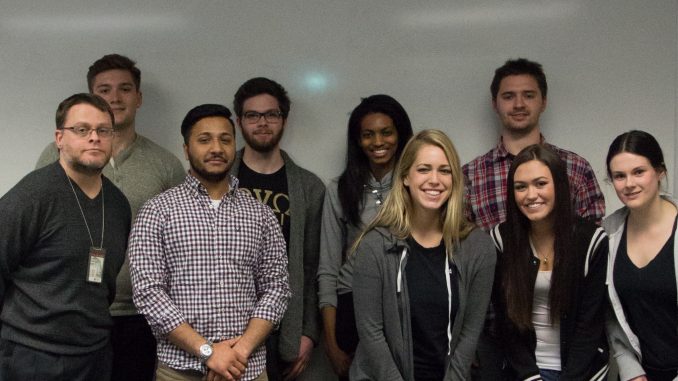 In her experience working with homelessness, Emily Susavage has identified a common thread: widespread misconceptions about homeless people. She's traveled across the country on service trips to cities like Chicago, Atlanta and New Orleans, and she's consistently seen a problematic view of the homeless.
People often think those who are homeless are "just lazy, they're alcoholics, they're drug addicts," said Susavage, a senior strategic communications major.
Susavage is part of an in-class initiative aimed at changing the perception of homeless people, specifically homeless youth, in Philadelphia: the "Seminar in Rhetoric and Public Advocacy" course, which is the capstone requirement for the rhetoric and public advocacy concentration within the strategic communications major.
"We want to educate the Temple community about homelessness," Susavage said. "But also [we want] to get our fellow students to think about the issue and not just walk past and not acknowledge it. So we are going to have the clothing drive as a way to advocate the issue and a way to educate the students, so I think it will be really productive."
Each semester, the course advocates for a different issue in the city. There was substantial interest this year in advocating for the homeless, said Janelle Grace, a senior strategic communications major.
"More than half of the class had an interest in pursuing homelessness, so we collectively decided to pursue the issue," she said.
The capstone course is made up of eight students and has three components: volunteerism, legislation and a clothing drive.
"Everyone in the class is volunteering their time at least one day at Broad Street Ministry, which caters to Philadelphia's vulnerable citizens, whether they're homeless or hungry," said Jason Del Gandio, the course's instructor and an assistant professor of strategic communications.
To begin to alleviate the homelessness epidemic in Philadelphia, Del Gandio said the group has to start rebuilding the system. And to begin this rebuilding, Del Gandio and his students are creating the campaign, "Challenging Homelessness by Organizing and Inspiring Co-operative Empowerment." He said it typically takes six months to execute a campaign like this one successfully—but these senior advocacy team members plan to execute CHOICE in 15 weeks.
The legislative team on the campaign drafted a bill to increase the accountability of lawmakers in determining accurate statistics about homelessness. Last year, there were only 51 beds for an estimated 500 homeless youth, Del Gandio said, and that can be partially attributed to inaccurate statistics.
"There are so many homeless youth in Philadelphia that it's really hard to find an exact number," Grace said. "As a part of our legislation, we are looking into how we can work with public schools, the foster care system and with juvenile detention centers in order to identify youth that are susceptible. We want to create a task force that will work towards solving this issue."
This bill will be presented to State Rep. Joanna McClinton of the 191st district.
"I hope it inspires people to volunteer their time and then hopefully we can make a small contribution to actually ending homelessness, which is what the legislation is about," Del Gandio said.
The clothing drive team is in charge of the social media and marketing components of CHOICE. It will spread awareness about homelessness in Philadelphia by collecting clothing donations today through Thursday in the Rad Dish Café.
"I hope [the clothing drive] raises the homeless issues in society in general, but more specifically in Philadelphia," Del Gandio said. "If I allow myself to dream, then it would be wonderful if Philadelphia became a leader in addressing youth homelessness in this nation."
"We aim to be that hand to pull each other up, and to give the choice of a future that is deserving of all people," Del Gandio said. "We have the choice to work together to achieve this goal by encouraging awareness, inspiring volunteerism amongst students, faculty and the community."
Delialah Burns can be reached at delialah.burns@temple.edu.