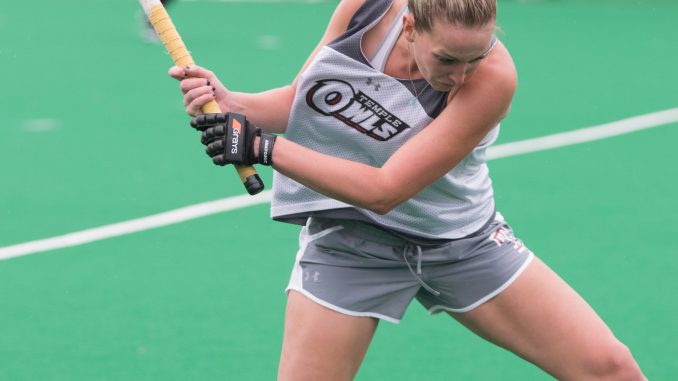 No matter the circumstances of the game, Nellie Doyle knows she can rely on the constant support of her teammates on the sideline. She knows her teammates have her back every day, every play.
Doyle only played in three games as a freshman in 2015 before playing in 14 games and making four starts as a sophomore.
Last season, Doyle played the 16th-most minutes of the 19 Owls who played. This year, the junior backer has played in every minute of Temple's seven games. Sophomore backer Becky Gerhart is the only other player to do so.
Coach Marybeth Freeman watched Doyle develop over the past three seasons and has praised her. Freeman said Doyle played the best game of her career on Sept. 1 against Penn State, when she made a defensive save in the Owls' 5-0 loss.
"I've had more confidence in Nellie this season because Nellie has more confidence in herself this season," Freeman said. "She is coupling her work ethic with her hockey IQ. She has just learned a tremendous amount from her experiences. She is like a sponge, and she continues to grow every practice, every workout and game."
With the increase in playing time, Doyle has naturally seen her role grow. Doyle hopes to anchor the defensive core with Gerhart this year, and the two will play together for one more year in 2018.
The Owls' backfield has been tested often early in the season. Temple faces an average of 18 shots per game. The two goalies who've played this season, with sophomore Maddie Lilliock serving as the primary netminder, make an average of 8.43 saves per game, which is tied for the ninth-highest number in Division I. Temple, like the other teams in the top 10 of the statistical category, doesn't have a winning record.
With constant pressure on the defense, the Owls have recorded the most defensive saves in Division I with eight. Doyle is tied for the team lead of two defensive saves with freshman midfielder Dani Batze and redshirt-junior midfielder Ashley Kucera.
Early in the season, Temple has struggled offensively, only scoring nine goals in seven games. To help out her forwards from the backfield, Doyle has been called on to play "big balls," or plays where she takes the ball from the defensive side of the field and makes a long pass upfield to give her teammates room to make a play and score a goal.
She didn't earn an assist on the play, but Doyle's takeaway and pass upfield to senior midfielder Rachael Mueller led to senior midfielder and forward Maiyah Brown's goal on Friday against Providence College.
Before this season, Doyle did not have the confidence to execute the plays she has been asked to make, she said.
"I've just become smarter on the field and that has come with the confidence, and I've been able to make plays that I would've never even tried my freshman and sophomore year," Doyle said. "It really helps to just get the support from your teammates and coaches to try to make these plays and not be afraid of mistakes. That's the biggest difference."