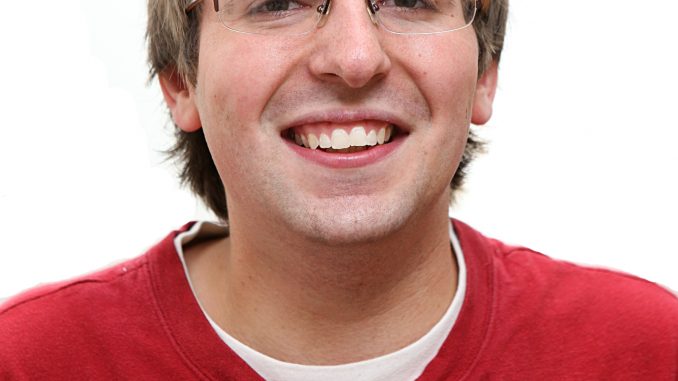 Nestled in parts unknown, cough Dresher, Pa., cough, "Apter's Alley" is the home of professional wrestling's pioneer journalist Bill Apter.
Reporting for the trinity of wrasslin' magazines known as Pro Wrestling Illustrated, the Wrestler and Inside Wrestling, Apter covered the squared circle action with a sense of legitimacy in an era when the media only focused on finding ketchup packets under the ring.
Conducting televised interviews in territories across the country, Apter gained national recognition by appearing on Ted Turner's "superstation" for Jim Crockett Promotions during the mid-'80s.
These days, Apter runs the popular grappling news website 1Wrestling.com and hosts the webshow, "Apter's Alley."
I'm lucky to write about my passion on a weekly basis, and it's incredibly satisfying to receive complimentary feedback from readers on and off campus. But for the Edward R. Murrow of wrasslin' journalism to reach out to this wide-eyed student and invite me to his immaculate abode is mind-blowing.
I brought my friend Aizaz, a modern day Iron Sheik, and we drove through a blizzard to find Apter waving us into his driveway with one hand and holding his snowy "wrestling wonderdog" Lexi Rose in the other.
Removing our shoes at the door, we toured the homemade museum of memorabilia spanning more than four decades. Flipping through his confidential photo album, Apter shared unprintable road stories and cherished memories of each posed legend on every page. Mountains of videotapes and cassettes sprawled around the floor from Apter's interviews with Liberace, Mickey Mantle and even our boy Bill Cosby.
Wait … when did they wrestle?
"When I got out of high school, I bought time on WHBI 105.9 FM in New York," Apter said.
"I called the stars' publicists and offered to publicize their shows as long as I could get an interview," he added. "Liberace was my favorite – I said, 'Since you wear sequin everything, do you wear sequin underwear?' He said, 'No, it would be too hard to sit on.'"
Apter never attended college, but he did take classes at The New York School of Announcing for 13 weeks.
"It actually helped me break into pro wrestling because the promoter of Sunnyside Gardens asked me to write press releases for the matches," Apter said. "I was able to interview Bruno Sammartino and some other wrestlers, shoot some pictures with my junky instamatic camera and then send them to the Wrestler and Inside Wrestling."
As we walked down the basement staircase, my jaw dragged off each step at the sight of the "Apter's Alley" studio. Mil Mascaras' mask from his first night at Madison Square Garden. A World Wrestling Entertainment Championship belt designed in Legos. Sketches of Winnie the Pooh, M&M's and other children's characters that Jerry Lawler designed for Apter's daughter's bedroom. The King actually owed Apter a favor for kickstarting one of the most famous feuds in history.
"Around 1982, [Andy Kaufman] was backstage trying to convince Vince McMahon Sr. to let him wrestle," Apter said. "[Kaufman] approached me because he knew who I was from the magazines. [McMahon] didn't like showbiz people backstage, so [Kaufman] asked to take the subway with me back to my apartment. We sat in the living room for hours talking about wrestling. I told him I have a friend in Memphis named Jerry Lawler and they do a lot of weird things like a wrestling Frankenstein, so maybe he could do his uncanny Elvis impression. I called Lawler at 1 a.m., he asked to speak with [Kaufman] and the key was in the ignition."
This was too much. A few candid photos of Ric Flair – OK. Ring jackets from different events – sure. But befriending The King to the point of calling him up during fourth meal? Absurd.
These athletes talk to reporters on a daily basis, so what makes Apter special?
"My mentality was to cover pro wrestling like Sports Illustrated would cover baseball," Apter said. "I knew what to talk about and not talk about in the dressing room back in the early days. Eddie Graham, Gordon Solie and even [McMahon] brought me in to maintain the kayfabe of the business. The guys who trusted themselves eventually trusted me, so I never broke it because this was the fraternity that I never had in college."
Despite all of his contacts and credentials, Apter has never worked full-time for WWE. In the early '90s, Apter took a freelance position procuring memorabilia such as Buddy Rogers' boots for the WWE Hall of Fame; however, the gig only lasted about 18 months because plans to construct a physical Hall of Fame ceased.
And although he was offered an editorship with WWE Magazine, Apter declined it.
"It wasn't an ego, it just meant I was content where I was," he said. "It wasn't about turning down McMahon. I simply didn't know if I could be the editor. When I was with PWI, I was only one of the editors."
Although I had never been in front of the camera, Apter made me feel at ease as we discussed current tag teams, potential challengers to Randy Orton and the possibility of Hulk Hogan returning at WrestleMania 30.
When I finally watched the YouTube clip that night, I noticed Apter cut me off when I mentioned an inconsistency with the Big Show/Rey Mysterio storyline. Then he rephrased my point, but didn't say the word "storyline." Or "angle" or "heel" or "face." The jargon of the industry, those inside terms once whispered among the wrestlers but now shouted within the Internet wrestling community, wasn't welcome in "Apter's Alley."
After 43 years in the business, after analyzing countless matches, after spending five Thanksgiving dinners with Mr. Wrestling II and his family, "Wonderful Willie" continues to suspend his disbelief and, more importantly, the disbelief of fellow fans.
John Corrigan can be reached at john.corrigan@temple.edu.