Genna Anne Zakin, a music therapy major, doesn't think the average person has an understanding of the impact of Alzheimer's disease. This year, the sophomore is using her crafting skills to change that.
While working as a camp counselor last summer, Zakin developed a passion for what she called the "summer's big thing" – friendship bracelets.  Zakin and her sister invested in their own supplies with the hope of developing their bracelet-making skills.
Simultaneously, Zakin and her boyfriend Tyler Seiferheld were pondering a way to honor his grandmother Betty Soto's recent battle with Alzheimer's. Soto's passing affected them both greatly, Zakin said, and gave her and Seiferheld a desire to educate others about the disease and its methods of treatment.
It was this desire that inspired Zakin to take her bracelet-making a step further.
"So much money is going towards cancer research, but cancer isn't a guaranteed death," Zakin said. "There is no cure or treatment for Alzheimer's because you can't get rid of it. There is no remission for Alzheimer's."
Zakin decided to utilize her newly acquired skill to bring public awareness to the cause. She began to construct purple and green rubber bracelets, which are the colors associated with Alzheimer's awareness.
Around a month ago, Zakin began selling her bracelets to raise money and publicity for the disease. With the 2013 Philadelphia Walk to End Alzheimer's on Nov. 10, Zakin said she is trying to make as many people aware of her mission as possible.
"I have had success selling my bracelets, mostly with [relatives] and friends so far and I've tried to put the word out on Facebook," Zakin said. "I was going to try to find a way to sell them on campus and move forward within the next few weeks since the Alzheimer's Walk is coming up."
The walk is being held at Citizen's Bank Park this year and has raised more than $374,000 with the goal to raise $1 million. Currently, more than 5,000 people are signed up to participate with more than 700  teams composed of families and friends, including Zakin, Seiferheld and his family. The team is called "Betty's Brood" in honor of Seiferheld's late grandmother.
Junior tourism and hospitality management major Allison Diamond said she has also seen a loved one suffer from Alzheimer's.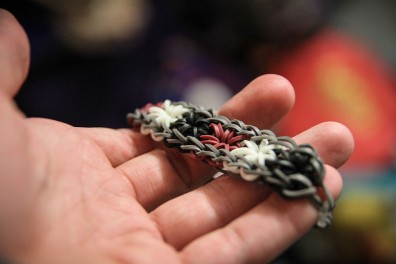 "It's one of the most difficult things anyone can go through," Diamond said. "Watching my grandma slowly lose her memory is scary. I think that Alzheimer's is a common disease that does not receive enough attention. I think [Zakin's] efforts are a great way to raise money and awareness."
More than 5 million Americans have Alzheimer's and a new case of the disease is developed every 68 seconds, according to the Alzheimer's Association's website.
Although undecided freshman Lauren Flurer does not have family diagnosed with the illness, she said she still supports the cause.
"There are so many diseases and health issues that we have today," Flurer said. "I would definitely buy a bracelet to support something that affects so many people."
"It's tough, it really is," Zakin said of her encounter with Alzheimer's. "It doesn't always seem like it's going to get better, but just keep your head up. It's a fact of life, and if more people can help and put additional research and time into this cause, we can change it a little bit, or maybe even completely."
Samara Grossel can be reached at samara.grossel@temple.edu.