[vimeo 76291414 w=750h=400]
Although Temple stands amid the concrete jungle of North Philadelphia, some students have ventured underwater, thanks to Mike Guckin's scuba diving course, which certifies them to be divers.
As the owner of Underwater World in Horsham, Pa., Guckin has used his scuba shop's resources to train aspiring divers at Temple for eight years.
"My shop has taught about 14,000 people to dive," Guckin said. "I have probably taught about 3,000 people to dive."
Thomas Lawrence, senior film and video major, aspires to one day film underwater adventures for publications and TV.
"I'm taking the class because I want to work for [the] Discovery Channel, basically Shark Week," Lawrence said. "I want to be the underwater videographer, so I'm taking the class to get scuba certified."
Senior environmental studies major Dana Baldini, said she wants to expand her capabilities for opportunities that arise through her work.
"I spent a month in South Caicos doing marine bio and policy," Baldini said. "Half of us were snorkelers and half were divers. Being down there and seeing the reefs [showed me] that it's great to see things on the surface, but there is so much more than the limits of a snorkeler."
Not all students in the class are taking it for the certification itself. David Fontanez, a junior kinesiology major, said he isn't worried about being certified – he already is.
"I was supposed to take chemistry, but I switched out at the last minute," Fontanez said. "Scuba is a break from the norm. I'm an older student and got my license 20 years ago. Guckin's class is a good refresher."
Guckin divides the course into two arenas – the classroom and the pool.
"In the classroom, students learn how to maintain, select and set up equipment," Guckin said. "They learn the physics and physiology of diving. We also talk about marine life and currents and tides."
After two decades without the textbook, Fontanez doesn't care for rereading the material.
"The classroom part is boring because, you know, it's academia," Fontanez said. "But this is my only class on Tuesdays and Thursdays so I like to show up, swim and then go home."
Conversely, Lawrence said he enjoys the intimidation factor of the classroom.
"I think the classroom part is interesting because he scares you at first," Lawrence said. "However, our professor said we'll be diving for at least a straight month now, and by the end of October, we can go on a scuba certification trip with him."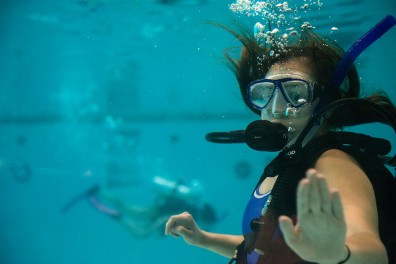 Students have the option to take the course as a three-credit physical education class, but they won't receive certification. Guckin only offers that process through his shop for those willing to advance their abilities.
"We'll do a bunch of stuff that trains you to solve problems underwater," Guckin said. "Students interested in the course should be reasonable swimmers because they'll end up swimming 300 yards."
Baldini said she trusts Guckin's judgment in and out of the classroom to the point that she has based post-college decisions on his counsel.
"I'm doing a grad trip after this semester and I want it to be about diving," Baldini said. "I'm going to Bonaire [part of the Dutch Antilles just above Venezuela], which is partially my own research and my professor's recommendation. I was nervous planning a whole trip around diving when I wasn't even certified yet, but after my first day in class, I realized I would be very confident in the water because I'm in good hands with Guckin."
Fontanez said he made the right decision in taking the class, even with prior experience.
"If you have a free elective, come out and splash around in the pool," Fontanez said. "I haven't taken a test yet so I can't say it's an easy A, but it will definitely be a fun grade."
Potential diving students shouldn't dismiss the grading process, Guckin said, because the final takes place in the classroom.
"There is a written test for the final because, in any kinesiology course, 30 percent of the grade is based on cognitive skills," Guckin said. "In order to get certified, you have to do two days of open water dives in a place we use up above Bethlehem."
Lawrence said the true challenge is simply registering for the class.
"It fills up quickly," Lawrence said. "It filled up within the first five minutes of registration and that was just for seniors. The good thing is that people drop it after he sends out the emails about 'must being able to do 10 laps.'"
Despite Fontanez's sentiments, Baldini said the course is not all fun and games.
"Only take this class if you're willing to take it seriously," Baldini said. "If you're not a good swimmer or not willing to work at it, or you don't have any intention of becoming a diver, I would not recommend this class."
John Corrigan can be reached at john.corrigan@temple.edu.