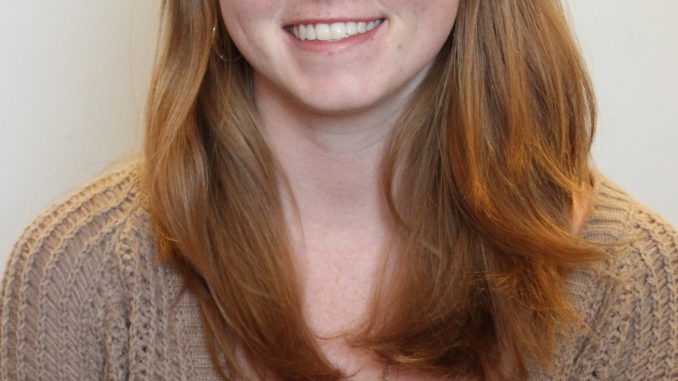 When I came out as bisexual last year, I knew I had just answered a big question about myself.
What I didn't realize is that I didn't have all the answers yet.
During the months that followed, I questioned how homosexuality is discussed in social settings in ways that I didn't really consider before I came out. And I also began to question the true weight of certain terms and phrases associated with the LGBTQ community — like the word "ally."
Allies are people who don't identify as a part of the LGBTQ community but are supportive of it, and I am thankful for them and their voices. But if you are calling yourself an ally, you need to earn it.
Brad Windhauser, an LGBTQ studies professor, said people began using ally to identify as a supporter of the LGBTQ community in the 1970s when Parents, Families and Friends of Lesbians and Gays — an organization for families and friends of LGBTQ people that is also known as PFLAG — started in New York.
"If you identified yourself as an ally, that told someone who was gay that…'I'm on your side,'" Windhauser said. "There were a lot of positive reasons that [the term] needed to exist for a long time, and I would argue, it probably still, in a lot of ways, does need to exist."
On Main Campus, there have been multiple religious-affiliated groups denouncing homosexuality as a sin within the first few weeks of school. On a national level, President Donald Trump announced a ban on transgender people serving in the military, which will go into effect within the next six months. It is essential that LGBTQ people know where they can find support in situations like these — and that is why we still need allies.
Sabra Anderson, the secretary of Queer People of Color, said to consider yourself an ally, you need to elevate the voices of queer people instead of talking over them. She added that you also need to "prove yourself" as an ally, which means not being indifferent to homophobic, biphobic or transphobic rhetoric.
"It's easy to just throw a pin on your backpack that says 'I'm an ally,' and you get cookies for it," Anderson, a junior Chinese major, said. "I don't think that's how it should be. There are varying degrees to it. … It doesn't have to be marching in the streets."
As an ally, you also need to understand what that means for the people represented by each letter in the acronym LGBTQ, not just one or two groups.
You cannot just support people who are lesbian and gay. You also need to stand up for those who are bisexual, transgender, asexual and for all people who identify as something other than cisgender and straight — even if nobody close to you identifies as so.
To do that, understand that people of different sexualities, genders and races face different levels of oppression.
The National Coalition of Anti-Violence Programs — an advocacy group for the LGBTQ community — recorded 36 anti-LGBTQ homicides in 2017 as of Aug. 23. About 75 percent of the victims of these murders were people of color, and 56 percent of them were Black. Within the LGBTQ community, Black transgender women are the most likely to be victims of fatal violence, according to the Human Rights Campaign — the largest national LGBTQ civil rights organization.
In Philadelphia, the owner of ICandy, a Gayborhood bar, was videotaped repeatedly saying racial slurs just last year.
"To consider yourself an ally of the LGBTQIA community, you need to be there for people of color as well," said Yaya Grajales, QPOC's graphic designer and a sophomore geography and urban studies major. "You cannot just be accepting of your white queer friends. You need to go further than that."
I agree with Grajales, and I think people using the term ally need to put more thought into the full scope of the word. Offer support to your queer friends and family members, but also educate yourself about the discrimination still faced by LGBTQ people. Donate to the HRC. Lobby against harmful political actions. Don't ignore it when someone casually makes a homophobic joke. The list of actions you can take goes on.
Aligning yourself with the LGBTQ community means you must be prepared to stand by a community of millions.
And while we are a community of individuals who each have a different background and identity, we all want the same thing from you: support.