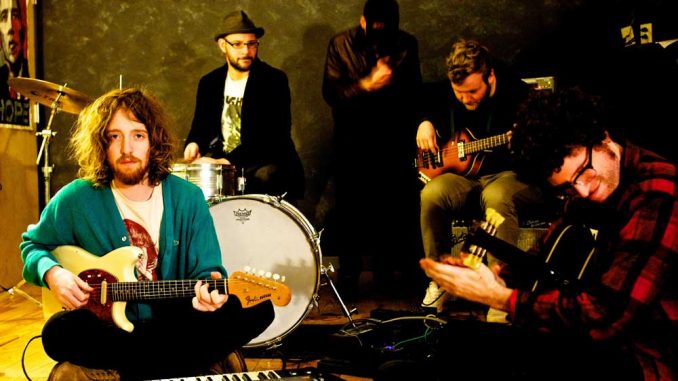 All it took was an eclectic, yet mutual, taste in music and a Philadelphia convenience store to make a force to be reckoned with in the Philly music scene.
It has been proven to be quite the recipe to unite Brent "Ritz" Reynolds, hip-hop producer, and University of the Arts alumnus and Philly musician Dominic Angelella to create DRGN King.
"We had so much trouble coming up with a band name, and there's this amazing little food store down the street from Brent's house called Dragon King, where you can buy like Sour Patch Kids and fried rice, and we stole the band name from them," Angelella said.
Angelella has been playing in bands since age 13.
"'Yeah,' I said to myself, 'I live a few blocks from Dragon King, so that's what the band's gonna be named,'" Reynolds, known for his work for artists such as Mac Miller and The Roots, added with a laugh.
For a novice listener to understand the sounds of DRGN King, it doesn't hurt to know about the different, yet deeply rooted, pasts that have influenced the band's present and future in music making.
"Brent and I are the kind of people who have been doing it for a while, for different things, like for me it was always something that I knew I was good at and the only real thing I wanted to do," Angelella said. "When I came here for school, I just found a bunch of people I liked playing with. It's been the thing for me."
"Similar to [Angelella], it all started in middle school," Reynolds said. "I've always had an interest in music, you know, I was a true hip-hop head, collecting records up through high school, and by that time I knew that I wanted to mostly produce, you know, making tracks, and I've been doing it for a while now. That's been the gradual process from like tinkering with it, while always having a passion for it, to where I have a studio in South Philly and still doing it."
Two musicians with polar opposite experiences, Reynolds and Angelella were unaware that their paths would cross at a chance studio session, locking in their partnership for the long run.
"At the time I was kind of a jack-of-all-trades. I always wrote songs but wasn't too confident in songwriting at the time. I was playing guitar for like everybody I could in the city, and [Reynolds] and I kind of bonded over just liking weird music and wanting to make our own version of that," Angelella said.
"Yeah, and we kinda have known each other just from being around Philly and making music, and just over time we made a lot of music, and we decided that we needed to form a band," Reynolds said.
It came as a surprise for the duo, too, both not only wanting to further their musical exploration and creation in the Philly music scene but also having similar tastes in their personal music libraries.
"I've been collecting records for a while, like the way I got into creating music was just studying records from the '60s and '70s, like jazz or soul or classic rock stuff. But I honestly try to listen to as much as possible…and just being aware of general current stuff, just everything," Reynolds said.
"I like songwriters in weird rock bands and rappers, like that's what we bonded over, was this mutual love of stuff like Ghostface Killah and [The Beatles'] Magical Mystery Tour. Basically there's a big ocean of music from the past and present," Angelella said.
Thus, this combination of experience and mutual tastes in music was the birth of DRGN King, with its debut album titled "Paragraph Nights."
The title song "Paragraph Nights" provides a love ballad between the young and restless and the search for a perfect night in the city. Others differ, however, such as "Holy Ghost," with its euphoric and simple sound, and the cool, retro-inspired "Menswear" and "Altamont Sunrise," reminiscent of Reynolds' and Angelella's adoration for '60s rock and soul.
"Paragraph Nights" does not just provide a new and exciting sound for audiophiles to become addicted to. It has an underlying and infectious ability to relate to its audience, something that can't be denied and won't be ignored.
DRGN King's debut album "Paragraph Nights" is set to release tomorrow, Jan. 23, on Bar/None Records.
Indira Jimenez can be reached at indira.jimenez@temple.edu.