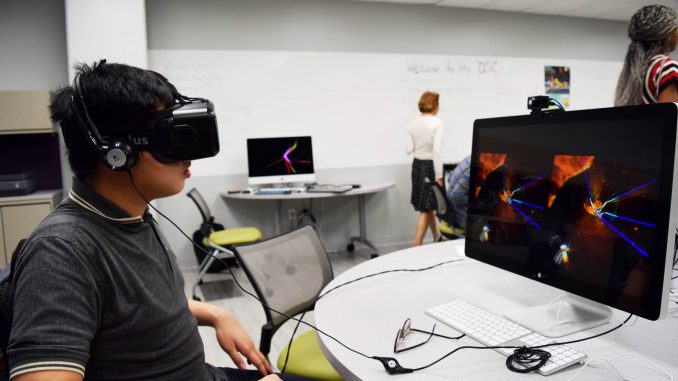 If one were to walk into Paley Library's ground floor late Sept. 30, they would have noticed something radically different from the library's normal operations—live music, open discussions and the sound of arcade machines.
This was the setting for Temple Libraries' kick-off games festival for its "Beyond the Page" programming, which this year will focus on discussions and events about games, gaming and play based on the theme "Games Without Frontiers." With blaring music from local band Cheap Dinosaurs and groups from within the city involved with gaming also in attendance, the event aimed to set the tone for the rest of the year's schedule.
"At the root, gaming is fun too and that's why it brings people together so I wanted to do something more fun to kind of start off the year," said Nicole Restaino, manager of library communications and public programming.
Restaino and Matt Shoemaker, coordinator of digital scholarship service development at Temple, planned for the event by connecting with groups in the city who were invested in games, including the Moore College of Art and Design, Nerd Nite Philadelphia and Lunar Rabbit, a game development team formed out of Drexel University's Entrepreneurial Game Studio.
Frank Lee, the director of the Entrepreneurial Game Studio and co-founder of Drexel's game design program, gave an opening lecture right before the festival, where he talked about his grand ideas of taking games "beyond the screen," like with his hacking of the Cira Centre building's lights to play Tetris and Pong.
It's these kinds of discussions that will make up the educational programming for the year, where guest speakers like Angela Washko, a Tyler School of Art alumna, will talk about gender and gaming, game design and games as pedagogical tools.
Junior social work major Jacob Emery, president of Temple's Gamers Guild, a student gaming group that was also at the festival, said he would love to see the university continue to promote learning about important topics through games.
"That's the kind of stuff where this really helps people with their creative outlets," Emery said. "It really helps people, being in a non-stressful environment, to think about this kind of stuff."
Temple faculty and groups are also getting involved in the year's events, like Temple's Infant and Child Laboratory which will be part of the Chemical Heritage Foundation's event Nov. 19 where they'll be talking about STEM toys and gender.
The event coincides with the CHF's current exhibit, "Science at Play," which looks at the institution's collection of more than 250 science kits and toys.
"Science toys have a long lineage based on scientific principles that are experienced by the user whether it's a kid or an adult—it's just fun," said Erin McLeary, museum director at CHF.
As these and more topics are explored, Mila Pokorny, a local game developer who is currently working on her card game Mahou Shojo, said a standout element of the festival she hopes to continue to see is the interaction between all the gaming-related groups at Temple and throughout Philadelphia.
"I'm happy that more schools are doing something more local-related and helping to promote each other," Pokorny said. "I think it's a mindset that needs to be passed down, that everybody needs to see each other as friends and not so much as competition."
Albert Hong can be reached at albert.hong@temple.edu.