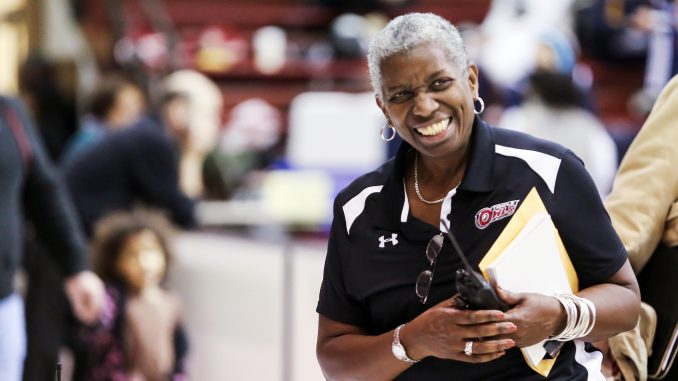 Nikki Franke is entering her 43rd season as Temple's fencing coach, but her expectations haven't changed throughout those four-plus decades.
"We expect a lot of success," Franke said.
Junior foil Demi Antipas is entering her third season under Franke and said she understands that her coach's expectations come from her in-depth knowledge of the sport.
"We always hold a high standard for all of us here," Antipas said. "Every single year even if we have multiple [NCAA] qualifiers. We push each other harder and harder to keep getting better and improving as a team to attain those goals."
Senior captain Lauren Rangel-Friedman has competed under coach Franke for four years, and understands what being an upperclassman means toward the success of the team.
"Definitely learning from past experiences," Rangel-Friedman said. "For example, the upperclassmen have a lot to offer to the newer fencers on the team and if we can pass down our knowledge to them, we have a good chance at doing exceptionally well this year."
A soft-spoken teammate for her freshman, sophomore and junior campaigns, Rangel-Friedman felt that this year was the time to step up and take the leadership role as captain on the team.
"When coach asked me if I was interested in this type of leadership role as a captain, I thought of it as a growing opportunity because I have never been one to step out in the limelight," Rangel-Friedman said.
After the team voted her captain, Franke seconded the notion. She said she knew after coaching Rangel-Friedman for three years, the time was right.
"The team felt like she [Rangel-Friedman] was the right one because they voted her to be captain," Franke said. "She's a hard worker, she is a focused person and she is committed to the team."
The Temple Open is the largest individual fencing championship in the nation and for Franke, it serves as an opportunity for her fencers to get back into the swing of things.
 "The [Temple Open] is important for us, so we can get experience under our belts," Franke said. "It is important for us to get into a competitive mindset and so that is why it is important to us. … It is nice for the girls to be able to see where they are in comparison with girls from other teams."
InRangel-Friedman tied for third place in sabre, while junior Demi Antipas and freshman Becca Stanford both tied for third in the foil. Temple placed six fencers in the Top 8.
Ranked nationally inside the Top 10 and annually one of the best teams in the nation, success is something that is expected, Franke said.
"That is why we work so hard," Franke said. "To have the consistency that we have had over the years is a tribute to the hard work that these young ladies have put in."
Throughout the early stages of competition Franke noticed a flaw in all fencers, one that could be vital to its success this season.
"I think that we need to work on our mobility," Franke said. "Our ability to move in and out while changing direction is important."
These changes are not going to come immediately, but Franke said she knows this.
"I think that it is all building blocks," Franke said. "We want to see the continued improvement so that we get stronger and stronger at every competition, so when the postseason comes we are at our peak."
Temple's next meet is the Penn State Open on Nov. 22. Beforehand, a few Temple fencers will compete in the November North American Cup held this weekend in Louisville, Kentucky.
Dalton Balthaser can be reached at dalton.balthaser@temple.edu and on twitter @DaltonBalthaser