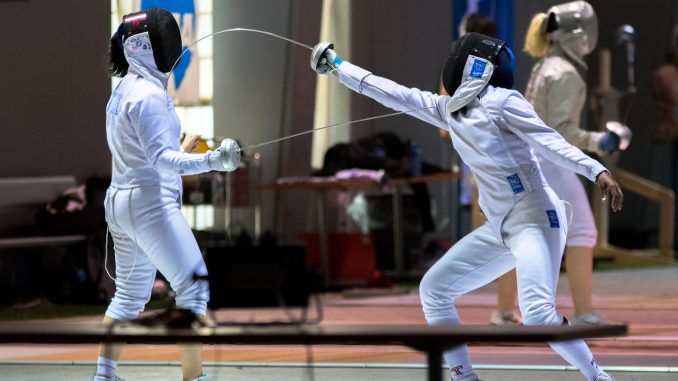 When coach Nikki Franke brought a recruit to visit Main Campus before the season, the prospective athlete was shocked to see Temple's new fencing facility.
Current fencers were just as shocked.
"As soon as I saw the final product, one word came into my mind," sophomore sabre Malia Hee said. "'Wow.' That was all I can say."
"'Wow' would not be a reaction toward our old practice space," Franke said.
With funding from donors, Temple built a new practice facility for the fencing program at the Student Pavilion on 15th Street between Norris and Montgomery Avenue. The fencing team previously practiced in the dance studios on the second floor of Pearson Hall.
With the opening of the Student Training and Recreation Complex on the corner of 15th Street and Montgomery Avenue earlier this semester, the required space for a fencing facility became available. Teams that formerly used the Student Pavilion during winter months and inclement weather now can practice on the indoor turf field at the STAR Complex, which is how the team got the space, Franke said.
"I have been asking about this for years," Franke said. "When they told me in August we would get the space, I had to wait until it became reality. Now that it is reality, we can enjoy the new space and forget the headaches the dance studio could cause from time to time."
Their new facility includes seven fencing strips and an array of practice dummies. With funding from donors, Temple built the facility at a cost of $45,000, Board of Trustees member and Athletics Committee Chair J. William Mills III said.
"We've been trying to upgrade…all the sports, and somebody always has to be last," Mills said. "But we'd been trying to do this for the last two or three years, and we've finally got ourselves to the situation where all of our sports have been upgraded at this point."
"We had to get a new boathouse, we had to do this, we're doing all of those things and it's just a matter of process and making sure we have the right facilities, we had the money to fund it and so on," he added. "There [were] no delays per say. It was just the natural process of upgrading facilities for all of our athletic teams."
Franke said she is looking for additional funding from donors for extra fencing strips and for mirrors so fencers can see themselves while practicing.
"The way you practice is the way you perform," junior sabre Blessing Olaode said. "This facility simulates more of a real event compared to a dance studio. I think we will all see that translate well this season."
The Owls were relieved to move their practice location to an area they can call their own, Hee said.
Because the team has a designated space, fencers don't have to set up and break down equipment before and after practice. Franke said it saves Temple about 15 minutes of practice time.
"In the last space we were crammed," Hee said. "We had some intrusion with some of the dancers coming in and out of the studio. It just felt dangerous and rude. Now we can enjoy ourselves in our own area."
Franke said she hopes to use the facility to work around her athletes' schedules by incorporating extra training times, which she couldn't do in past seasons.
High-level programs Temple competed against in recent years have had those benefits with their practice facilities, Franke added.
"This space makes things a little easier," Franke said. "It changes up how we do things in some aspects. We no longer have to have rotations for our athletes to use the scoring machines. That is the biggest benefit. It is going to be fun to see how this is going to make us better."
The Owls got to show off the new facility on Oct. 1 at their annual Alumnae Meet. Franke said her former fencers were jealous of the Owls who get to use the new space.
Temple ended the 2016-17 season tied for eighth in the CollegeFencing360.com coaches poll and peaked at sixth, the program's highest all-time ranking. The Owls also set a single-season wins record with 34. With an improved practice facility, Temple wants to seize its momentum.
"We want to be a top-four or top-five team in the nation," Hee said. "We feel like with the new practice space we can take another step up from our recent success."