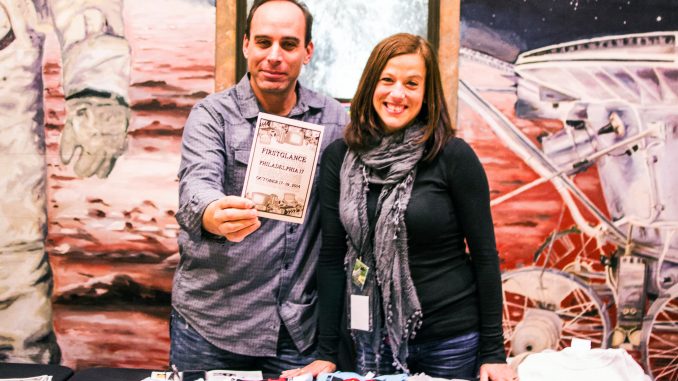 It's uncommon to find a person who has watched more than 6,000 films, but Bill Ostroff considers it part of his job description.

Ostroff is the director of FirstGlance Film Festival, an independent festival that celebrated its 17th year, at the Franklin Theater in Philadelphia this past weekend. The three-day event hosted many varieties of films: feature films, short films, web-series, animated and other types by independent filmmakers.
Ostroff, a 1993 graduate from Temple's School of Media and Communication, traces his passion for the festival to his love of film.
"My goal in going into college was to learn about filmmaking. I enjoyed the courses on film theory," Ostroff said. "It was what I wanted to do – and still what I want to do."
As the first person in his family to graduate college, Ostroff spent a lot of extra time working on projects to make sure he knew how to be well-rounded in the real world. He began working for local production companies, filming industrial projects and shooting events like weddings and Bat Mitzvahs, which Ostroff said gave him the opportunity to learn the essentials of filmmaking.
At Temple, he teamed up with a few other students, Penn State filmmakers and "theater folks" to create a small group called Independent Film and Theater. The group put on theatrical plays and musicals at small venues. However, after realizing there was a lack of film involved, Ostroff suggested creating a film festival.
He secured space in the basement of the Philadelphia Bourse Building by borrowing money.  Ostroff said the first festival of 30 shows was fairly successful.
"At that point, I didn't think any more of it," Ostroff said. "Then, I started getting phone calls and people were asking me at school when the next one would be, and at that point I realized that I should do another."
Seventeen years later, FirstGlance has become a bicoastal festival, with events taking place in Philadelphia and Los Angeles. Since its start, the festival has grown to showcase its talent in state-of-the-art theaters that show digital screenings in 3D.
While it has gained a strong following, the festival strives to provide a more personal setting for filmmakers and attendees.
"We don't sugar-coat or make [the festival] seem bigger than it is," Ostroff said. "It is a festival that is only possible due to the filmmakers that are involved in it. I create the space, and they fill it up with great projects."
Andrea DiFabio, who has worked with the festival for 15 years, deals with the relationships between the festival and the filmmakers. She takes time to personally call filmmakers, congratulate them on their work and see if they have any questions.
 "It's so nice to talk to them and hear the excitement in their voice about being in the festival and talking to them about their individual projects," DiFabio said. "They work very hard and look forward to letting their stories be seen and heard by people."
The festival's goal is to help young and student filmmakers network with other professional filmmakers. Some well-known directors and actors have come through FirstGlance festival, like "Kick Ass 2" director Jeff Wadlow and "Twilight" stars Robert Pattinson and Kristen Stewart.
This year, FirstGlance tried something completely new. It has been running online contests for more than eight years, but this year it will give out a cash award, which will allow filmmakers to make money while their films are competing online.
During a 30-day period, films that cannot make the festival will be online for fans to watch and vote.  Watching and voting comes with a two dollar fee – a dollar of which goes to the winning filmmaker. The winning filmmaker keeps the voting money and prizes, and their film will be shown at the next festival.
 "We really try to be a big supporter of short films because there aren't a lot of places that people can go see short films or get their short films screened," DiFabio said.
This process is the first of its kind for the filmmakers. Ostroff is working with a technology company, "It's A Short" in hopes that the contest can be done for any independent film festival in the country.
Ostroff hopes to give light to eager filmmakers.
"If you really want to be a filmmaker, start making films," Ostroff said. "Don't wait. Don't hope. Write something that you think is good. Find good collaborators, editors, actors and put something together because you never know if you're a filmmaker unless you make a film."
Jeanie Davey can be reached at  jeanie.davey@temple.edu