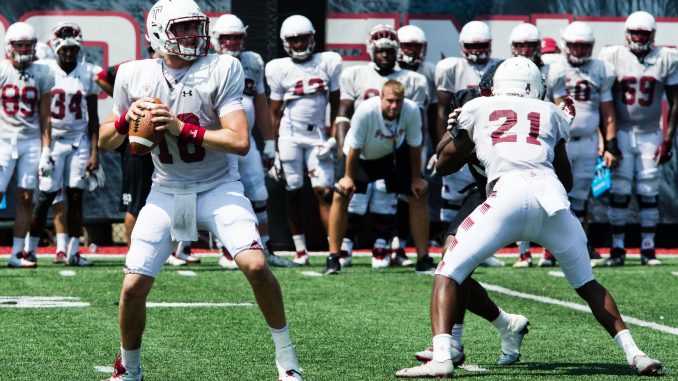 Temple is "past the point of aiming low," College Football News' Pete Fiutak wrote in May.
Temple will start its season on the road against the University of Notre Dame just as it did in 2013. The Owls will travel to South Bend, Indiana with first-year coach Geoff Collins and a quarterback — who has yet to be announced — making his first career start, just as they did four years ago with then-coach Matt Rhule and former quarterback Connor Reilly.
But the contrast in expectations for the team's performance is stark.
The 2013 Owls came off a 4-7 season in their sole campaign in their second stint in the Big East Conference under former coach Steve Addazio. That year the inaugural American Athletic Conference media poll slotted Temple second to last in the league.
Temple had to face a Notre Dame squad that ended its 2012 season at the Bowl Championship Series title game and returned two 2014 NFL Draft picks on the defensive line. Fans could "expect Notre Dame to have this one wrapped up by the second quarter," Connor Killoren wrote for the Bleacher Report in July 2013. Temple missed two field goals and allowed more than 500 total yards of offense in a 28-6 loss.
This year, the Owls' best-case scenario is a third straight conference title game appearance after wins against preseason conference favorite South Florida, ranked No. 19 in the Associated Press Top 25, and Houston, College Football News wrote in a February analysis.
The worst case? Still needing a win to achieve bowl eligibility, Temple loses on the road to Tulsa in its season finale.
"I'd say this year is a lot different because there's a lot of guys that come from like a winning background," said redshirt-senior defensive lineman Sharif Finch, who made 30 tackles in eight games in 2013. "We won a championship last year, so it's not like it's as drastic of a change. We've still got the same process, the same culture."
Notre Dame, just a six-point favorite against Temple in March, is now a consensus 18-point favorite as of Monday. The Fighting Irish are one of four teams the Owls will face this season that are ranked or received votes in the preseason AP poll. Temple will face three of those schools in the first five games of the season, including matchups against South Florida and Houston in back-to-back weeks.
Despite its tough schedule and having to groom a newcomer at quarterback, Temple received eight votes in the preseason Amway Coaches Poll. The team returns junior running back Ryquell Armstead, who led the team in rushing touchdowns last year. The Owls also return their three most targeted receivers last season: redshirt junior Ventell Bryant, redshirt senior Keith Kirkwood and senior Adonis Jennings.
"If we were sitting here and we had a two-year starter returning at quarterback, everyone would be talking about repeating."
ED FOLEY
TIGHT ENDS AND SPECIAL TEAMS COACH
Temple lost four of its top five tacklers from last season, but it returns starting safeties junior Delvon Randall and senior Sean Chandler. The pair combined for 116 tackles, six interceptions and six pass breakups in 2016.
"If we were sitting here and we had a two-year starter returning at quarterback, everyone would be talking about repeating," tight ends and special teams coach Ed Foley said. "But instead we don't, and now they're talking about putting us in third place [in the conference preseason poll], which is exactly where we want to be. It's exactly what we're going to put on the board, exactly what our kids are reading, and we're going to play with a chip on our shoulder the entire season, which is great for us."
Six Owls remain from the 2013 squad that finished with a 2-10 record. That year, the team had second-half leads in six of its 10 losses and led in the final two minutes of regulation in three of them.
In its run of back-to-back 10-win seasons in 2015 and 2016, Temple owns a 16-2 record when leading at halftime and is 17-0 when leading after three quarters.
"It definitely helps having guys like me and [redshirt-senior defensive lineman Jullian Taylor] and some of the older guys that were here in 2013 and know what it looks like to have a losing team and try not to repeat that history obviously and just being successful this year," Finch said.