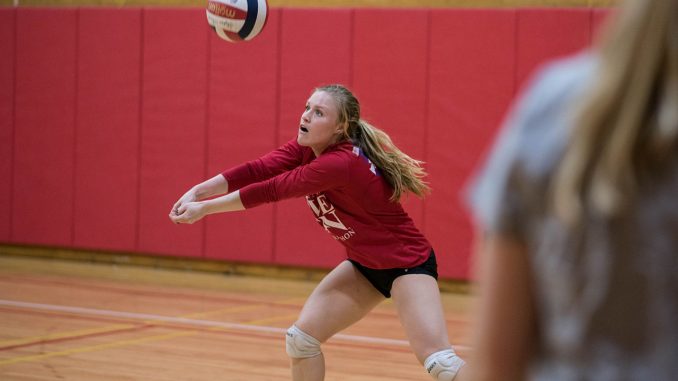 Geena Bevenour briefly had to leave a club volleyball practice this season to give a presentation for one of her two on-campus jobs.
"Most people probably would've been done for the day, but she literally sprinted there and back in like 10-15 minutes," said senior setter and club president Alicia Kradzinski. "She's an incredibly committed team player."
Bevenour, now a senior setter on the club team, walked onto Temple's Division I squad as a freshman after graduating from Pope John Paul II High School in Montgomery County.
She spent both her freshman and sophomore seasons on the team, but she never entered a match. After two years, Bevenour and the coaching staff decided it'd be best for her to leave the team because she wouldn't play.
"I loved practicing with that team every day for two years, as I'm a very competitive person," Bevenour said. "The coaches were very open and honest about the fact that I would never really get any playing time because of other recruits who were on the team."
Two years later, as Bevenour approaches her graduation with a degree in media studies and production, she's still glad she decided to leave the team. Playing club volleyball, which is less of a time commitment than Division I, has allowed her to compete, hold two on-campus jobs and study abroad in Dublin in Spring 2017.
Unlike at the Division I level, Bevenour has a student coach in Kradzinski, who is also one of her roommates.
The two have known each other since eighth grade, when they played on the same Philadelphia Volleyball Academy team.
They also battled against each other in high school. Kradzinski played for Lansdale Catholic High School, which is about a 40-minute drive from Pope John Paul II High School.
"She's really developed into a great leader in the time that I've known her," Kradzinski said. "She's also very good at taking initiative on the court."
Bevenour is in her element on the volleyball court, but she took a break from the sport after leaving the Division I team.
At first, she decided to try rowing in Spring 2016 after associate head strength and conditioning coach Sam Whitney recommended it because of her natural athleticism.
Her transition to rowing was successful. In her first year, Bevenour was a member of the Third Varsity 8 boat that won a gold medal at the 2016 American Athletic Conference championships.
But after the 2016 season, Bevenour's desire to continue rowing simply wasn't there.
"I really like and prefer playing in a game sport," Bevenour said. "Rowing was very methodical, and it just wasn't my cup of tea."
Bevenour decided to come back to her favorite sport at the club level. Despite no longer being a Division I volleyball player, Bevenour never fails to bring Division I intensity and competitiveness, Kradzinski said.
"We're competitive, but we also have a lot of fun on the club team," Kradzinski added. "When Geena is playing, she keeps the intensity at the forefront of everyone's mind."
"Geena is always very encouraging and vocal during a match," senior right side hitter Olivia Aizen said. "She is also really talented and a very hard worker, the type of player anyone would want on their team."