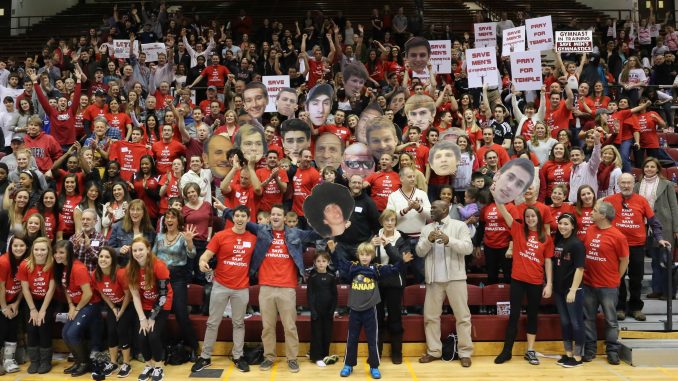 ANNAPOLIS, MD. – Around an hour before the 2014 Eastern College Athletic Conference men's gymnastics championships in Annapolis were scheduled to start, Fred Turoff opened a big black suitcase.
What sat inside was a large trophy with the words "Intercollegiate League Championship Trophy Gymnastics" inscribed on it.
It's not the Stanley Cup, but like Lord Stanley, Temple had kept possession of the ECAC trophy the past two seasons.  It's the same trophy that has been used since 1927, when Dartmouth won the conference title when Temple was part of the Eastern Intercollegiate Gymnastics League.
But this year, a young team full of new competitors couldn't win a third straight ECAC title.  Instead, the hardware went to William and Mary, as the Tribe posted a score of 424.05 to win the conference championship. Friday marked the Owls' final time performing in a conference championship, as the team will cease to exist at the varsity level after the Board of Trustees voted in December to cut the program later this year.
The Owls finished the meet in fifth place out of six teams with a score of 406.85.  Army came in second (419.10), with host Navy came in third (413.80). Springfield edged Temple to finish in fourth (407.1), while Illinois-Chicago came in sixth (399.45).
Although the Owls were unable to reclaim the ECAC title, they were able to improve by four points over their score in Columbus two weeks ago.
Coach Fred Turoff was pleased with his team's performance.
"I think today was our best performance of the year," Turoff said.  "Were it not for the one fall on pommel horse, we wouldn't have had any falls today."
Highlighting Temple's day was Evan Eigner, who scored a 14.50 on the rings.  His score was good enough to finish tied for eighth overall in the event, which advanced him to the individual finals.
"I held my strength skills better than before," Eigner said of his performance.  "But my last few skills were a little shaky, so if I can fix that up [for individual finals], I'll be pretty happy with that."
Another Owl that had a notable day was Jacob Welsh, who finished sixth in the all-around with a score of 81.10.
Welsh was excited but also modest about a performance that was good enough to make it onto the podium.  There's still plenty to improve on during the summer, he said.
"It's my execution score," Welsh said.  "If I can get cleaner across the board, I think I can do a lot better."
Welsh also said that he also looks to add a couple of skills, including increasing the difficulty of his dismounts.
Looking ahead, the Owls have the NCAAs starting on April 10.  That will begin a three-day weekend in Ann Arbor that will most likely be Temple's last event at the Division I level.
Even if they are somehow reinstated over the next couple of months, the Owls will lose seniors Charles Baldi, Scott Haddaway, and Brendan Williams, along with graduate student John Lenoard.
Williams contributed another highlight to Temple's day when he qualified for the individual conference finals on the pommel horse with a score of 13.8.
"I'm proudest with that event," Williams said.  It's sometimes a shaky event because you're in constant motion, and one slip and you fall off.  I knew that after the first three guys in front of me hit their routines, I was going to hit mine."
Williams was in tears as he realized that his time at Temple is coming to an end quickly.  He's happy with the way his team is finishing his season.
"I think the way we went out with this last meet, where we hit 29 for 30 routines, that was phenomenal," said Williams.  "I've been a part of two [ECAC] championship teams, and this is one of the most memorable meets that I'll recall."
"I said at the beginning of the meet that we're from Philadelphia, and we're fighters," Williams added.  "We're going to fight our hearts out today.  And we did just that…we did the best we possibly could have done."
Steve Bohnel can be reached at steven.bohnel@temple.edu or on Twitter @SteveSportsGuy1.