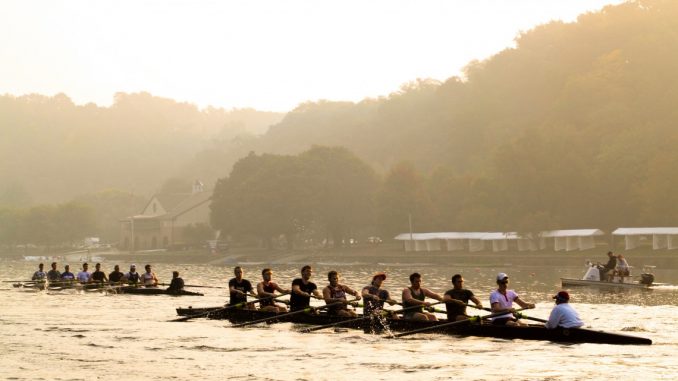 The student-athletes never saw it coming.
A few of them were cracking jokes and laughing while walking into the Student Pavilion on what was a chilly, rainy Friday afternoon. The Owls knew it would be bad – an emergency meeting scheduled on a study day had to be. A few speculated that someone had cheated on an exam and they would be lectured ahead of finals week. But the announcement that would soon be delivered to the teams was one that few, if any, expected.
Two white umbrellas shielded athletic director Kevin Clark and deputy athletic director Pat Kraft from the downpour of precipitation as they followed the student-athletes into the building.
About five minutes later, Clark was gone – the news had been dealt to the group quickly and succinctly. Temple has approved a plan to eliminate men's gymnastics, men's track & field, baseball, softball, men's crew and women's rowing effective July 1, 2014.
Shortly after Clark's departure from the Student Pavilion, the door slammed open as one of the student-athletes affected by the decision had stormed out of the building. She walked away and stood next to the black fence that surrounds the facility, where the woman clenched a laptop in her arms and gazed across the street.
Many of the student-athletes then began filing outside, and dozens were in tears. Hugs were in abundance, as several teams stuck together and consoled each other. Seniors in particular were doing their best to comfort some of the younger student-athletes. Across the street, the women's track & field team tried to make sense of the fact that their program would be split in half as a group of soccer players, unaffected by the cuts, passed by the Geasey Field Complex.
"F— this school," one student-athlete said.
"Football and basketball get f—-ing everything," another said.
Several were questioning the timing of the announcement, which came just a few days before finals begin.
Others were simply in a state of confusion, as one student-athlete's words seemed to sum up the entire group's reaction: "I don't know what to do." Although all scholarships will continue for those that decide to stay at Temple, transferring will be an option for many. Students choosing to continue their athletic careers at other institutions will be eligible to compete immediately, and coaches are allowed to start recruiting Temple students now.
The even harsher reality for these seven programs is that they all are spring sports – each of the student-athletes affected still have one more season left to compete in as an Owl.
"It's incredibly hard," sophomore Evan Eigner, of the men's gymnastics team, said. "All we can do is just try our best and do everything we can do to represent our team in the best way possible. We need to keep our heads up and stay positive."
Eigner, the son of 38th-year head coach Fred Turoff, said the team will do everything it can to save the program through various fundraising efforts. Clark, however, told The Temple News that no teams will be able to fund themselves back into the athletic department. The men's gymnastics team holds the highest GPA of all university sports.
"They built a huge new arena and then cut the teams in it, and said we didn't have the budget to do it," sophomore thrower Dimitri Drossopoulos, of the track & field team, said.
"It's our life," Drossopoulos added. "We put in at least three-and-a-half hours a day. Things are going to change now, I guess."
Clark said making his recommendation to cut seven sports programs was "an extremely difficult decision." With all the tears that have been shed already, emotions are still running high for Temple's student-athletes affected by the cuts.
"We're all just shocked," Eigner said. "Heartbroken. We can't really describe the feeling. It's so tough."
Avery Maehrer can be reached at avery.maehrer@temple.edu or on Twitter @AveryMaehrer.