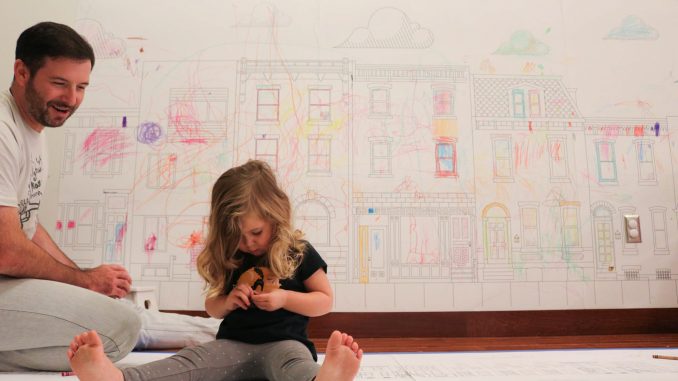 Bryan Satalino was flying in an airplane over Philadelphia when he first thought about how many bricks make up the average row home.
"It was just me … looking down and seeing hundreds of thousands of row houses," said Satalino, an assistant professor of graphic design. "You can't even see where they end. … It's just incredible."
"It helps define the city. Unlike a lot of other cities, where it's a small percentage of [housing], like New York City," he added.
Satalino formed PhillyRow — a program celebrating Philadelphia row homes — in Spring 2016 with Clifton Fordham, an assistant professor of architecture, and Abby Guido, an assistant professor of graphic design. The program's goal is to educate community members about the history and design of the row homes, as well as promote civic pride and sustainability.
PhillyRow held an exhibition this weekend at Minnow Lane, a restaurant in Kensington. The exhibit was part of DesignPhiladelphia, an annual festival held for designers, architects and creative professionals running Oct. 6-16 this year.
The work displayed was a compilation of what the professors and two summer interns completed over the summer. It also displayed a Fishtown coloring book designed by PhillyRow.
The interns and the professors conducted fieldwork, measured properties and created illustrations. They also researched the history of Philadelphia row homes in libraries, city databases and historical archives.
"I researched hundreds of Fishtown row homes that represented the historical timeline of the architecture," said Julia Lewis, a senior graphic design major who interned with PhillyRow. "Everything from the brick pattern to the doors, windows, and the cornices at the top of the house said a lot about that time period that it was made in."
At the exhibit, PhillyRow displayed infographics about the history of Philadelphia row homes.
"I think it's cool to see on one wall all the different types of row houses in Fishtown itself and also the history of them so you learn it all in one place. It's pretty awesome," said Troy Hannigan, a visitor at the exhibit and a Fishtown resident who works in architecture and planning.
The infographics are a platform that PhillyRow plans to use as a way to help homeowners from all income levels make their existing structure more sustainable by adding things like insulation or changing concrete patios to gardens.
"There is no one good point for that information anywhere," Satalino said. "It's very fragmented. And we would like to have some general guidebook for this."
Seventy percent of all housing units in Philadelphia are rowhomes, according to the Healthy Rowhouse Project.
"We want people to pay attention to [row homes] and look at the different details, see how they're made and know the terminology around them and to love them," Satalino said.
Row homes are an efficient use of land, Satalino said. The sheer amount of them allows for enough population to support public transport and economic turnover.
Fordham added that row homes also contribute to sustainability because they don't have garages. They instead promote the use of public transport or cycling and walking.
"It's a very manageable housing type for utility uses and for people who don't have a lot of resources," Fordham said. "Rather than remove these houses or neglect them, we really have to see them as assets to maintain."
Fordham added that Philadelphia row homes are unique because they were designed for a wide variety of income levels, unlike places like New York City, where row homes were generally built for the wealthy.
In the future, PhillyRow intends to continue its work and have more exhibitions throughout different neighborhoods. Guido said they have researched row homes in South and West Philadelphia.
"We would like to take what we have and create a series of prints to show some of these differences we are finding between neighborhoods and create a product that will help promote this idea of civic pride," Guido said.
"We want to show people that where they have lived isn't boring," she added.
Kait Moore can be reached at kaitlyn.moore@temple.edu.