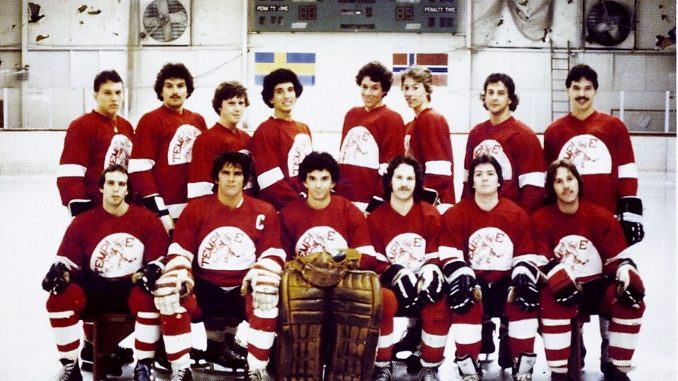 Before his death, Mark Murray decided he didn't want to be dressed in a suit for the day of his funeral. He wanted to wear his jersey.

An operative part of the creation of the men's ice hockey club, the 58-year-old 1980 Temple ice hockey alumnus passed away of multiple myeloma, a severe type of bone marrow cancer, on Sept. 11. He will be honored by the club on Oct. 26 during its game against Penn State.
Murray and his friends were given the news of his disease in July 2013. This past January, Murray received a bone marrow transplant in hopes of bouncing back.
However, the former forward relapsed instead – fighting all the while. In his final days, Murray told his loving and supportive girlfriend of 18 years, Barbara Christon, his final request: to be buried in his Owls jersey.
"That hit me pretty hard," said Mike Jenks, who graduated from Temple the same year as Murray and was his longtime friend and teammate. To Jenks, Murray's last wish was a display of camaraderie.
Murray's decision showed just how much respect he had for the friendships he made on the team and how he truly loved the players, along with their time spent together. When Jenks heard of the heartfelt request, he took action.
"He was not only a friend, but a brother," said Joe Blaszczyk, a Temple alumnus who was close friends with Murray ever since their time with the team. "He was a leader on and off the ice."
Blaszczyk said he and Murray held phone conversations daily during Murray's battle with his illness.
"He was somebody that was very determined," said Blaszczyk, who took in his friend's puppy, a cairn terrier named Karma, after Murray passed.
Jenks explained how Temple's ice hockey club was originally comprised of a few college students who rented the ice to play the sport they grew up with. At the time, they weren't a structured team.
"It was back in 1977 when a group of us decided to join a league," Jenks said.
The group joined the Delaware Valley Collegiate Hockey Conference and hit the ice. If this group of college players were going to form a legitimate regulation team, they needed money, jerseys, helmets, mouth-guards and, of course, players.
Jenks registered himself and his friends, including Blaszczyk, set up a schedule of 30 games – 14 of them non-league contests and 16 league matchups – and hosted tryouts.
"Once we had a program together and a league team, we started attracting great talent," Jenks said.
The group charged around $10 for each potential player as a way to get the team's funds going. About 40-50 players came out, Murray being among them.
Jenks still remembers the first time he saw Murray play, describing him as "really good" during tryouts and easily making the team.
Jenks said the time spent together as teammates led to a strong friendship between himself and Murray.
"We evolved not only as friends, but as teammates," Jenks said. "We became a solid core team."
Occasionally without a coach, or financial support, the team was forced to put in significant effort to maintain the program.
"We really just coached each other," Jenks said. "Most of the time we financed ourselves. … I'm proud of what we started."
Three years later, the team went on to make the playoffs in 1980, Jenks and Blaszczyk's senior year. Cited as a "big part" of the success, Murray was with the team all three years and ended up finishing as one of its leading scorers.
About 15-20 of the team's original members are expected to attend Sunday's ceremony from all over the country.
Jenks said he is hoping to start a scholarship in his teammate's name, as well as making the memorial game in Murray's name an annual event.
Chelsea Rovnan can be reached at chelsea.ann.rovnan@temple.edu