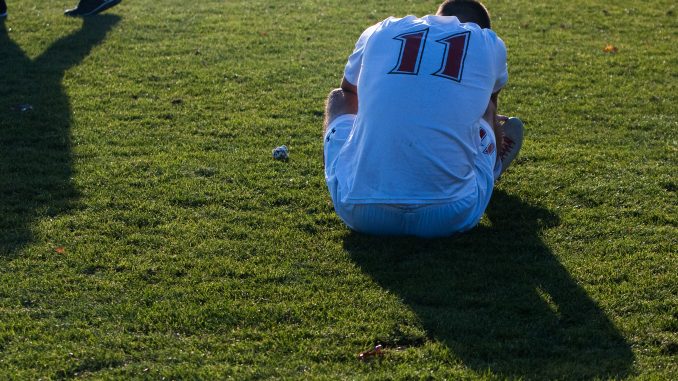 Temple's season may be over after Saturday's 1-0 loss to South Florida in the American Athletic Conference quarterfinals.
"It's a tough loss," junior goalie Dan Scheck said. "This definitely wasn't what we had planned for. This wasn't our goal for the season. Our goal was to go to Dallas, compete in the semis and finals and actually get a NCAA berth. But with this loss, I'm pretty sure it ruined all those chances now. It's tough."
"Every loss is tough," redshirt-junior forward Chas Wilson said. "But when it could potentially end your season, I think that really hits home. And the guys know that there might not be another one, so we're a little disappointed right now."
Despite the loss, the Owls still surpassed expectations this season. Temple was predicted to finish last in The American this year, but instead finished fourth with a record of 10-4-4. But for Scheck, the accomplishment means little.
"I guess you could say we were picked last and we finished fourth, so you could look at that as a positive," Scheck said, standing alone on the field after the game. "But I knew coming into this season that we had a really good chance of making [the NCAA tournament], and since we didn't reach that goal, I'm upset and I don't look at this season as that much of a positive anymore."
The loss to South Florida was Temple's first home loss of the season. The Owls were 7-0-2 before the game, and had outscored their opponents 13-3 in home matches.
"We have a really good advantage here at home," Wilson said. "We don't expect to lose here. We don't like to lose here. I don't think we lost here last year either, so this is a low blow."
Although coach David MacWilliams was also disappointed in the game's outcome, overall, he said he was still pleased with the season.
"We're not saying it's over," MacWilliams said. "We're going to hope for some luck, but it doesn't look like the odds are in our favor right now. But the guys battled all year. From day one they came in, they were prepared and they wanted it, and they battled to the end. It was a great year and I'm disappointed it ended this way."
Freshman defenseman Matt Mahoney said he was frustrated by the lack of respect the Owls got before the season.
"We [had the] 20th ranked class in the nation for freshmen, so I thought that we would have been ranked higher coming into the season," Mahoney said. "I thought we did well to prove people wrong. For the quarterfinals, I thought we got a bit unlucky giving up the goal with 30 seconds left in the first half, but we fought back well. We tried as hard as we could and sometimes you come short. But I thought it was a good season overall."
After the game, senior forward/midfielder Vaughn Spurrier took time to reflect on a four-year career that appears to be over.
"Temple soccer, for me, has always been about the boys," Spurrier said. "Just the pleasure to be able to go out and fight and represent them, along with representing Temple and our families. It's been an honor. I'm sad to see it go. But it has been an honor, and I'm extremely grateful for the opportunity and for the talent God has given me."
Spurrier also said the soccer program is on the rise, largely due to the past two recruiting classes.
"Temple soccer hasn't been the most respected program in the nation," Spurrier said. "You can see that with our last place preseason coaches' poll ranking. But I think that this season's shown [the program is] moving in the right direction. Hopefully they'll bring in guys that can fill the holes that the seniors are going to leave. And if they can do that, they'll be successful moving forward and the program will just continue to climb."
"The influx of the freshman talent has been huge," Spurrier added. "Starting with [sophomore Jared Martinelli's freshman] class and moving forward, [Temple has] been getting increasingly better recruiting classes. I think that that's been the biggest change, that we're starting to attract some pretty big-name players."
Mahoney, who has three more years to go with the team, said he was also confident in his team's ability to succeed in the coming seasons.
"I think we'll bounce back well," Mahoney said. "We've got to pick up a couple more freshmen for next year, fill in some of the spots that the seniors are going to be gone from this year, but we'll bounce back pretty well."
"We opened some eyes across our conference, and hopefully across the country," MacWilliams said. "I think our guys are able to play with anybody."
Don McDermott can be reached at donald.mcdermott@temple.edu.