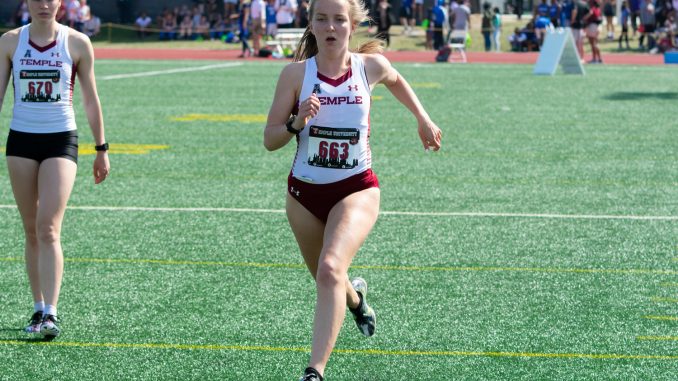 Coming into her freshman year at Temple University in 2017, Lucy Jones was worn down.

Jones is from Leicester, England, where the cross country season typically ends around late July or early August.

"I wouldn't say I was disappointed at all early on in the season with her, I was just aware that she was going to be a little bit behind," coach James Snyder said. "But as the season started to move along, she got better and better. By the time we got into the championship season, she was starting to find her stride a lot more and was a top-three runner on our team."

Now, she's off an all-conference 2017 season. She started this year by placing third at the Temple Invitational on Aug. 31 at Belmont Plateau in West Philadelphia with a time of 23 minutes, 32 seconds in the 6,000-meter race.

Jones wants to build on her all-conference season after playing a major role in the women's third-place finishes at the American Athletic Conference and Eastern College Athletic Conference championship meets last season.

"The season went super well last year, but I definitely know that I should be placing higher this season," Jones said. "I know that I could get all-region recognition if I run to the best of my ability. And if at all possible, I want to get as close to NCAA qualification as I can, or even make the NCAA meet."

Jones didn't compete at the  Temple Invitational last season. She first competed in the Rider Invite on Sept. 15, 2017 and finished fifth with a time of 22:55.37. She then placed 55th with a time of 18:22 at the Joe Piane Invitational, a 5,000-meter race hosted by the University of Notre Dame.

Jones improved her results after that meet, starting with a 20th-place finish at the Princeton Invitational with a time of 22:09.4. She then earned all-conference honors after finishing in the top 15 at the American Athletic Conference championships with a time of 22:04.4.

She had another top-15 result at the ECAC championships, leading the team to another third-place finish with a time of 18:19.5.
"I just have to be a lot more patient than others in terms of just waiting for it all to click," Jones said. "I got it in my head that I wanted all-conference recognition, but I didn't really say it to anyone, I just kept it in the back of my head. And then once I accomplished that, I had a lot more confidence in myself."

Snyder began recruiting Jones during her senior year at Our Lady's Convent School in Loughborough, England. Snyder looked at her meet results online, then reached out to her via social media. He said that Jones never actually took an official visit to Temple, but through conversations over Skype, Jones was convinced that Temple was the place for her.

"One of the things that stood out in our recruiting process of Lucy was that she was someone who wanted to help build a program and be a centerpiece of a group," Snyder said. "We both thought that was something she could do here at Temple.

This season, Jones has higher expectations for her teammates, coaching staff and herself. But that doesn't intimidate her because she has been in that position in the past, she said.

"I don't mind at all that being at the front is expected of me because even though that's added pressure, I feel like that's correct of them to think that way," Jones said. "Hopefully I can encourage others on the team to do as good or even better."