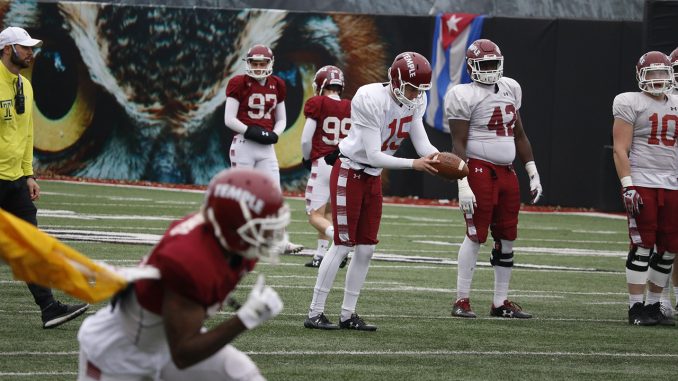 Redshirt-senior kicker Aaron Boumerhi and redshirt-sophomore punter Connor Bowler will not be returning to Temple University's football team for the upcoming fall season.

Both Boumerhi and Bowler began last season as starters at their respective positions.

Bowler will transfer following the commitment of Adam Barry, a junior college punter, to Temple. Barry attended Independence Community College in Independence, Kansas last season before transferring to Temple on April 2.
Boumerhi participated in the Owls' first two games but missed the rest of the season after suffering a hip injury. Boumerhi had surgery on his hip in order to be ready for this season but decided to leave the program after not participating in spring practice.

"Aaron and I, we had a great talk," Coach Rod Carey said. "He's been as good as a Temple football player as I've had here in my three months, and from talking to everybody, as there has been here. Unfortunately with his injury last season, so we are going to bring a kicker in here and go recruit some and go from there. It was a mutual decision on both sides."

Boumerhi became the starting kicker during the 2016-17 season after Austin Jones suffered an ACL injury. Boumerhi proceeded to make 15-of-17 field goal attempts and received second-team All-American Athletic Conference honors. During his sophomore season, Boumerhi made 15-of-23 field goals.

Redshirt-sophomore Will Mobley, who was expected to battle Boumerhi for the starting kicker spot this season, is expected to be the full-time starter following Boumerhi departure. Mobley has only missed one career extra point, and has made 51 straight PATs, which is a school record.

Temple will look at Barry and sophomore punter Max Cavallucci to replace [Bowler], who elected to transfer from Temple.

"[Bowler] just wanted an opportunity to kick," Carey said. "He saw us signing a punter as limiting that opportunity. I support him in his decision to go and do that. [Bowler] and I had a really good talk and I get it from his situation too and he gets it from my situation.

Bowler averaged 42.6 yards on each of his 57 punts last season.

Bowler had his best game last year against East Carolina when he had four punts of more than 50 yards, three of which landed inside ECU's 20-yard line. Bowler recorded a career-long 62-yard punt against Cincinnati on Oct. 20, 2018.

Carey expects to bring in another recruit or transfer kicker to compete with Mobley.