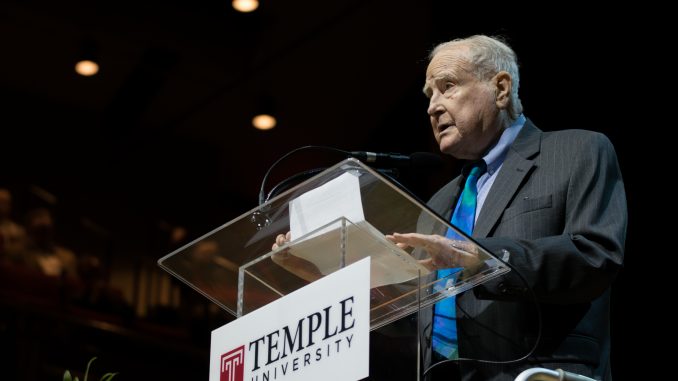 When actor and comedian Bob Saget thinks of Lew Klein, he remembers "pure guidance" on how to make it in show business.
During his time at Temple, Saget, a 1978 Klein College alumnus, created "Through Adam's Eyes" — a black-and-white documentary about his nephew having reconstructive face surgery. Klein gave Saget a list of film festivals where he thought the film could do well.
The documentary won a Student Academy Award in 1978.
"You have helped so many people and many of them are known and many of them are off in a career in production or whatever," Saget said to Klein. "But you are a conduit for a world of talent and you deserve so much."
The School of Media and Communication officially became the Lew Klein College of Media and Communication at a ceremony hosted by Saget in the Temple Performing Arts Center on Wednesday. The renaming is in honor of Klein, an instructor at Temple for nearly 65 years.
Klein and his wife Janet Klein donated a multi-million dollar gift to the college, which is accompanied by seven-figure donations from Steve Charles, a 1980 alumnus of the school, and Board of Trustee member H.F. "Gerry" Lenfest and his wife, Marguerite Lenfest. Lew Klein is also the namesake of the Lew Klein Excellence in the Media Award, which has gone to prominent figures in the media like writer and producer Tina Fey and broadcast journalist Wolf Blitzer.
He is also known for his work in the television industry, like the creation of Gateway Communications, which owned several CBS-affiliated stations along the East Coast, and the production of the music television program American Bandstand during its stay in Philadelphia.
The ceremony included a welcome speech from Dean David Boardman of Klein College, University President Richard Englert, Chairman of the Board of Trustees Patrick O'Connor, Former Commissioner of the Philadelphia Police Department Charles Ramsey, Senior Vice Provost for Strategic Communications Betsy Tutelman, Bernie Prazenica, a 1979 Klein College alumnus and general manager and president of WPVI-TV, and Merrill Reese, a 1964 Klein College alumnus and Philadelphia Eagles radio announcer on WIP-FM.
Saget discussed his experience while at Temple, living at home with his parents in Abington, Pennsylvania and working as a deli clerk. Lew Klein helped Saget get his first internship when he was 18.
"Lew saw something in me," said Saget, who interned on KYW-TV's The Mike Douglas Show, a former daytime television talk show.
Emerson Coleman, the vice president of programming at Hearst, a U.S. mass media company, said there's "a certain way" about Lew Klein that makes Coleman feel like they've always known each other.
Coleman serves on the board of the National Association of Television Program Executives along with Lew Klein, who founded the organization in 1963 and has served as its president. He said it's hard to have a conversation with Lew Klein without learning something.
"In hindsight, Lew has given us important institutions, not just brick-and-mortar buildings, but he has enabled us to think profoundly about the fascinating world of communications," Coleman said.
Karina Cheung, a 2014 media studies and production alumna and reporter at WTAJ-TV in Altoona, Pennsylvania, never had Lew Klein as an instructor but said he was always in Annenberg Hall to give students advice. He would also stop in on Thursday mornings to check in on Temple Update, the student-run broadcast news organization, she said.
Cheung was a recipient of the Lew Klein Excellence in the Media Award, which allowed her to travel to Hong Kong the summer before her last semester.
"It shows you that you don't have to be the person handing out grades to inspire students," she said to the crowd. "Now as a reporter, people always ask 'where did you learn to do this?' Well, Temple and Lew Klein are always part of that conversation."
Janet Klein spoke about the support and respect her and Lew Klein give each other. The Ambler Campus Board of Visitors member added donating money has always brought her and her family "much joy," and that she is proud to share Lew Klein's name with academic colleagues and friends.
"Although this honor could represent the culmination of Lew's various careers and professions … it brings with it instead, the incentive and a very implicit responsibility to continue to educate," Janet Klein said to the crowd. "And also instill self-confidence and the encourage to practice integrity in their careers and personal relationships."
Lew Klein expressed his thanks for the honor and recognition. He recalled being the editor of his Cheltenham High School newspaper in 1945 and attending a seminar at Temple.
"Attending inspired my curiosity in journalism," Lew Klein said to the crowd. "Just seven years later, I was an instructor at Temple University, teaching a production course in a very iffy business named television."
He also thanked Boardman for the "explosive leadership" he's provided for the school since his arrival and Janet Klein for her support.
"On a personal note, my greatest joy, the one I owe everything to, is Janet," Lew Klein said. "Janet, nothing would be anything if it were not for you. You are my life, thank you."
Boardman said that the college name change signifies all of the values that Lew Klein embodies, including "excellence, integrity and inclusion."
"I think now to have that Lew Klein brand, which is a sterling impeccable brand, just elevates us even more, so we are heading into our greatest years," Boardman told The Temple News.
Emily Scott can be reached at emily.ivy.scott@temple.edu or on Twitter @emilyivyscott.
Abbie Lee contributed reporting.