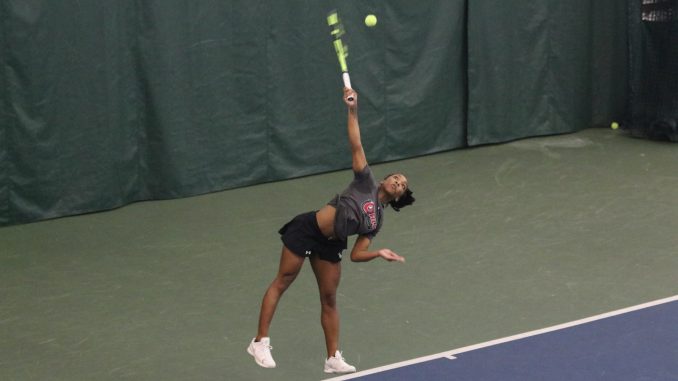 When Monet Stuckey-Willis came to Temple to play tennis, she brought with her a plethora of talent and experience.
But there was one problem: she had never played on a team before.
"It was so different," Stuckey-Willis said. "You're really used to yourself and looking out for yourself, but now you have to motivate yourself and your teammates. And if you're down it brings your team down, so you need to work with everybody and not just yourself."
Stuckey-Willis was homeschooled throughout her life so she could focus on tennis. The Owls' junior never played for a high school team and instead played in individual tournaments with a private coach.
"It took a long time to open up because I'm really introverted," Stuckey-Willis said. "But [the team] feels like a family. It's a family outside of your family. It makes me feel comfortable."
The Southwest Philly native first picked up a racket when she was 6 years old. It was apparent early that she had natural talent for the game, and her parents took notice.
At age 9, Stuckey-Willis began working with personal tennis coach Chris Hill and started playing on her own. She also started studying with the online Agora Cyber Charter School in order to focus on traveling and practicing tennis.
In her later years of high school, Stuckey-Willis decided she would play tennis in college despite considering a run at playing professionally right away. For a player who wanted to stay local and continue working with her coach, Temple made the most sense.
"It was my only choice," Stuckey-Willis said. "It's Division I and it's close. It's only 15 to 20 minutes from my house. It was a perfect fit."
Coach Steve Mauro said taking homeschooled kids like Stuckey-Willis is always a risk because of their non-traditional training style.
"With homeschooled kids, you never know what they'll be like because they don't interact with other kids a lot," Mauro said. "But Monet is great. She's very down to Earth, she's a good teammate and she's a good friend."
Stuckey-Willis' experience outweighed any minor setbacks that came from being homeschooled.
She went away from her family for seven months to study in Florida at the 6th Sense Tennis Academy, which was started by Belgian tennis star Justine Henin. She also spent three months on her own at Henin's academy in Belgium.
Stuckey-Willis also played in various tournaments across the region with Hill that would affect her Intercollegiate Tennis Association scores, which players send to college coaches to prove their worth.
Mauro was impressed.
"When I did my research on her, I realized she was a very good player, a very dedicated player," Mauro said. "She has unlimited potential, she's a very tenacious player and she has all the right strokes."
After suffering through injuries in her sophomore year and missing preseason tournaments in Fall 2016, Stuckey-Willis is now fully healthy and playing consistently. Playing in the second position for the Owls, she has posted an 8-7 record this season including several pivotal victories.
In Temple's match against Iowa State University on Jan. 27, Stuckey-Willis' win in the second position gave Temple a 2-1 lead on the way to a close 4-2 victory. Her victory against Drexel University on March 1 gave the Owls a 3-0 lead in a 4-3 win.
Finally, her victory in the second position got the Owls on the board in their 5-2 loss to conference opponent Tulsa on March 5.
"I think she will play professionally afterwards," Mauro said. "I definitely think she has a shot of being a good professional, I just think it's a matter of her maturing on the court. But she can definitely take her game to the next level."
Graham Foley can be reached at graham.foley@temple.edu or on Twitter @graham_foley3.