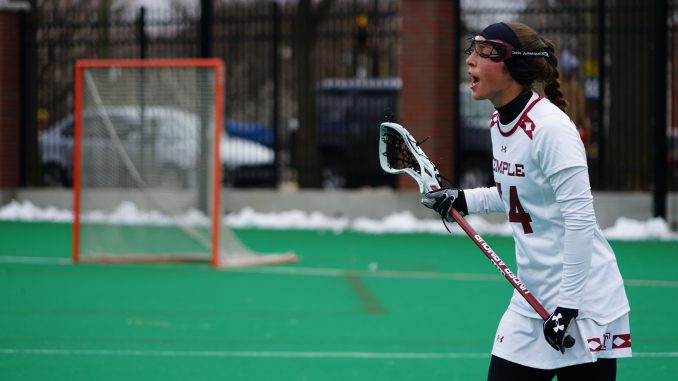 Brenda McDermott was playing in a pick-up game before her first official Temple practice. She made a move to get around her teammate, and the next thing she knew she was out for nine months with a torn ACL.
Her freshman season was over before it even started.
"It was a battle," McDermott said. "I was never hurt in my life, so coming in and that happening, it definitely took a toll on me mentally and physically."
While that was the first major injury of McDermott's career, it wouldn't be the last. Over the next four years, the graduate attacker would be confined to the sidelines time and time again to nurse different injuries, including her hip, neck and back.
After taking a redshirt season her freshman year in 2013, McDermott only saw playing time in six games her sophomore season and one game her junior season. Over the course of those two years, she tallied two goals and one ground ball. She said being in and out of the lineup was "a constant battle."
McDermott went into her senior season with a different mentality and finally healthy.
McDermott finished the 2016 season with a trip to the Big East Conference Championship where Temple lost to the University of Florida. She played in 17 games, led Temple with 22 assists, tied for third on the team with 26 goals, notched 18 ground balls and caused five turnovers. McDermott was also named to the all-Big East first team.
After her breakout 2016 season, McDermott had to make a choice: leave lacrosse behind or stay at Temple for her fifth year.
"Throughout my senior year we had a great season, so I was like, 'This would be something I would be OK with ending,'" McDermott said. "But it also left that craving of wanting more, that's what really attracted me to come back."
Through nine games this season McDermott, who was named to the preseason all-Big East team, leads Temple with 19 assists and 35 points. She is tied for second in goals with 16 and first in ground balls with 17. McDermott is also ranked 11th in Division I in assists and 18th in points.
"The way her first couple years started without her really being able to step on the field due to injuries, I had no idea that she would end up becoming a key player that our opponents would have to focus on," coach Bonnie Rosen said.
One of those opponents is city rival La Salle. McDermott had two goals in Temple's 13-10 win against the Explorers in March, including a last-second goal to put the Owls up by three goals at halftime. She also caused three turnovers.
"She's the quarterback of their offense," La Salle coach Candace Taglianetti Bossell said. "I think she's a really efficient crease attacker, so we really have to have a mark-up on her."
"She's just really efficient, she makes it count," she added.  "When she puts the ball in the stick she throws really good fakes, she finishes on the play and she's a really high-percentage shooter. She's a really tough kid."
Playing in that game may have meant a little more to McDermott's older sister Lauren, who played lacrosse for the Explorers from 2010-13.
Lauren was a senior at La Salle when Brenda tore her ACL her freshman year.
"It was a huge letdown," Lauren said. "We would've ended up playing each other and it was really disheartening because we were never going to get that moment."
Lauren enjoys watching her sister play even more because she knows what it is like to be a college athlete and what Brenda had to go through to get to this point.
"I love being able to go down to her games and just see her do these awesome things on the field," Lauren said. "It's a proud sister moment."
"And I'm a Temple fan," she added. "At least until Brenda is done playing."
Tessa Sayers can be reached at teresa.sayers@temple.edu or on Twitter @SayersTessa.