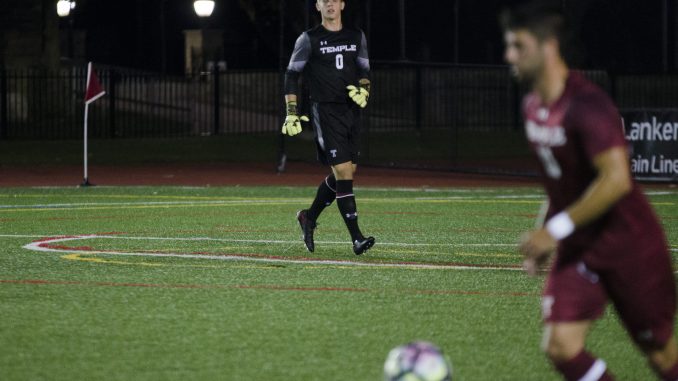 In his third game as an Owl, sophomore forward Thibault Candia scored his first college goal on Thursday afternoon.
After the tally in the 80th minute, Candia and the Owls took a late one-goal lead against the University of Delaware at Stuart and Suzanne Grant Stadium. Less than five minutes later, however, the Blue Hens earned two consecutive corner kicks and scored to send the game to overtime.
Despite Temple's offensive rush in the two overtime periods, the Owls couldn't find the back of the net, and the game ended in a 1-1 tie.
"I thought we controlled and dominated the overtime," coach David MacWilliams said. "We had way more shots and had the ball for most of the time. The goalie really just made a couple of great saves."
The Owls outshot the Blue Hens 6-1 in overtime and forced redshirt-junior goalkeeper Todd Morton to make three saves in the final 20 minutes. Temple finished with 13 shots compared to Delaware's eight. Redshirt-senior goalkeeper Alex Cagle faced all three of Delaware's shots on goal in the second half.
Senior forward and midfielder Joonas Jokinen accounted for three of Temple's shots in overtime and recorded six shots in 81 minutes.  
"Joonas is one of our top players," MacWilliams said. "We really rely on him in these kinds of games to come up big for us and he does."
Temple held the Blue Hens shotless during the first half, which is difficult to achieve especially when playing on the road, MacWilliams said.
Despite the long game, the Owls had four players stay in for the whole 110 minutes. Cagle, senior midfielder Divin Fula Luzolo, redshirt-senior defender Mark Grasela and sophomore midfielder Nick Sarver all played the entirety of the match. Junior midfielder Belal Mohamed played 106 minutes, and sophomore midfielder Zach Brown played 100.
"They were exhausted at the end of the game, but I'm just so proud of the boys," MacWilliams said. "I think the guys played extremely well, especially for having played less than 48 hours ago. They showed a lot of heart, a lot of character today and I'm just disappointed for them that they didn't get the win."
The Owls have used a different starting lineup in each of their three games, as 13 different players have made a start so far. Freshman defender Darri Sigthorsson earned his first start Thursday.
"We are starting to find our own identity and style of play," MacWilliams said. "We've changed a bit of our foundation and tactics, and I think it's working well. It's something we are able to do when we have so much depth in positions."
Temple will face Rider University on Sunday in its home opener. It is the Owls' only home game in its first six contests.
"I think the guys played extremely well for their third away game in a row, but it will be nice to be back home," MacWilliams said.