[vimeo 79134761 w=750 h=400]
Holding the gleaming crown in her hand, Miss Philadelphia Francesca Ruscio explained what her title actually represents.
"Service, scholarship, style, success," Ruscio said. "Those are the four points to the crown and service is my favorite aspect of this entire experience."
The sophomore was crowned Miss Philadelphia at the Prince Music Theater on March 2, running with a platform that aims to help raise awareness for retinal blindness.
Ruscio teamed up with a mom of three children, two of which suffer from acute symptoms of blindness and are losing eyesight progressively.
She said she praises the passion of the mother every time she speaks to a crowd, who is fighting for her children to do simple things, such as drive a car, catch a baseball or even see their sister.
"I'll be working with that family, probably 'til the day I die" Ruscio said. "I really believe in the mom, I believe in the cause. I'm keeping my fingers crossed that someday her sons can actually see her, can see me and carry on a normal life."
Ruscio said she felt inspired by their cause and used her networking to the family's advantage to help promote their annual fundraiser that boasts nationwide donations in the hundreds of thousands to Fight for Sight.
Working closely with the Miss Philadelphia organization, Ruscio set up a game show with the Ryan Seacrest Foundation at the Children's Hospital of Philadelphia over this past  summer.
Ruscio went to the hospital and appeared on every television in every room, answering questions for any child calling in.
Later that day at the hospital, Ruscio met a young girl from the oncology unit who was a fan of Miss Philadelphia. Ruscio said she plans on visiting the young girl continually and is giving the crown to her at the end of her reign.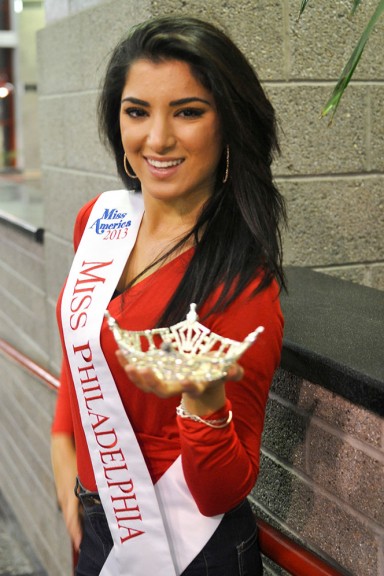 "There are so many little girls that look up to me – I'm their inspiration" Ruscio said. "These little kids fight for their lives every day, and I like to surround myself with good people, people who inspire me to live a happier life."
Giving and taking inspiration from the community are some of the morals instilled while working with the Miss Philadelphia organization.
Kate Cohen, the current co-executive director and former Miss Philadelphia, credits former director Kevin McAleese for revitalizing the organization and keeping their vision clear.
McAleese passed away earlier this year, leaving behind a heritage of strong values, empowered women and a united community.
"[McAleese] was a veteran and the heart of the organization," Cohen said in an email. "The committee and former Miss Philadelphias worked together because we were determined to keep the pageant alive and thriving despite the loss of our dear friend and mentor."
Cohen hopes passing on this title will keep a stronger community while building stronger women.
"We look to celebrate each woman's unique, authentic self and help her to achieve her goals, whatever they may be," Cohen said.
With a love for the city and the community, Ruscio said she wouldn't have it any other way.
"I don't see how it would be plausible for me to gain and not give back," Ruscio said. "The organization has done so much for me and I want to live out [McAleese's] legacy."
Ruscio is studying broadcast journalism at Temple and hopes to be a meteorologist for a local news station. She has plans to stay involved with the community and the Miss Philadelphia organization for the rest of her life.
Hoping to one day win Miss America, Ruscio said she wants to succeed not just for herself, but for her friends, her family and ultimately her city.
Ruscio will finish her reign at the end of this year, but auditions for the next Miss Philadelphia will be held on Nov. 24.
"Philly is a tough city to conquest in a funny way because it's so diverse," Ruscio said. "You really have to relate to all walks of life."
Patrick McCarthy can be reached at  patrick.mccarthy@temple.edu.