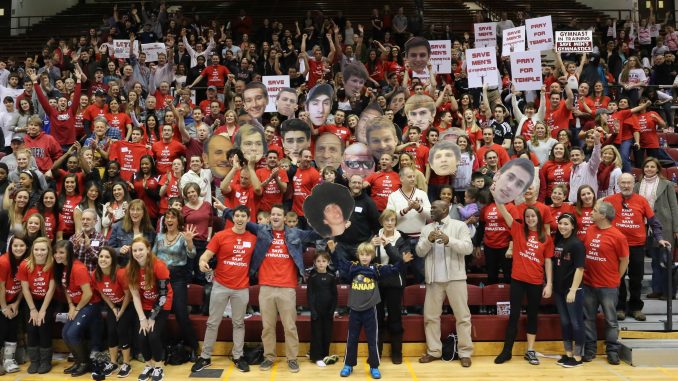 The women's gymnastics team may have won the Ken Anderson Memorial Invite on Feb. 1, but the Owls have their eyes set on something bigger this season – sparing the men's squad from elimination.
"We're doing everything we can to save it," senior co-captain Jean Alban said. "We have a petition going, we have T-shirts made, videos, calendars. You name it, we're doing it."
Both gymnastics teams practice together in a shared gymnasium in Pearson Hall, and several members from each squad show up for support at home meets. The results, the gymnasts said, is a chemistry between the two teams.
"I think that everything happens for a reason," Alban said. "In the end, it's all going to make us stronger as a team whether the men's team is here or not. We're still a family in the end."
But after 38 years at the helm of the men's program, Fred Turoff is in danger of losing his job. Turoff coached current women's gymnastics coach Aaron Murphy when he competed for Temple between 1998-2001.
"If this all takes place, it would be a huge shame to see Turoff not be here," Murphy said. "Again, we hope that doesn't end up happening. But for the other sports as well, same with their coaches. It would be a shame not seeing them around, too. But the next day has to go on."
Turoff has remained optimistic about the team's chances of reinstatement, due to recent athletic and academic success. Murphy said he keeps up-to-date with any news his colleague discovers.
"He's with me every day at practice, so I do keep in touch with him about what is going on," Murphy said. "He's given me a lot of positive feedback about who he's spoken to and some of the meetings that have taken place."
Murphy said he hopes this feedback keeps both teams' heads up moving forward.
"If he's feeling good about it, so am I," Murphy said. "When it lifts his spirits and my spirits, I think it lifts the kids' spirits as well."
One of the things the women said they'd miss most about Turoff is his knowledge of the sport. With an all-time record of 432-184 (.701) coming into this season, the coach of 18 Eastern College Athletic Conference title-winning teams started his gymnastics career in the Philadelphia junior public league. He is also a nationally and internationally certified judge, having served in many international competitions, including the 1991 Pan American Games. Turoff's experiences have benefitted both teams.
"He's helped me in the gym, giving me corrections here and there," senior Brianna Ferdinandi said. "So not having him here would be weird and not good for us, either."
But it's not just the technical things – Turoff's work ethic inspires gymnasts on both teams.
"He means a lot," freshman Mikaela Postlethwait said. "He puts in so much effort just to keep this place up and running smoothly, and everything going well. He's definitely given the teams motivation to just keep fighting, and that's what we need most."
Postlethwait is not the first one of her family to learn from the legendary coach.
"My sister is an [alumna] here, and she had the experience of working out with the men," Postlethwait said. "I think it's just a once in a lifetime chance for a lot of people, and it would be great if they kept going."
Senior Sylvie Borschel said she would see Turoff's departure as an unjust end to his Temple career. One of Borschel's former coaches once competed on a Turoff-led team.
"I think that it's really unfortunate, because he has a strong history with the team, being on it and coaching it for so long," Borschel said. "I think he's been a part of the program so long, that it's almost unfair. It's like the opposite of being rewarded, it's almost like he's not getting what he deserved because he put in the time and effort and did such a good job."
The women's gymnastics team said they realize the cuts affect much more than its male equivalent.
"I wish all the teams could stay," Ferdinandi said. "It's not fair for the seven of them to go. I'd rather just have less funding and have all seven teams here."
"I think it's a shame," Postlehwait added. "I think a lot of people are on all of those sports teams, and it's a dream of theirs that's being crushed to do collegiate sports. I think it's just a once in a lifetime chance for a lot of people, and it would be great if they kept going."
"It's going to be upsetting that they [might not] be here anymore," Postlehwait added. "But we're fighting, and that's all we can do right now."
Steve Bohnel can be reached at steven.bohnel@temple.edu.