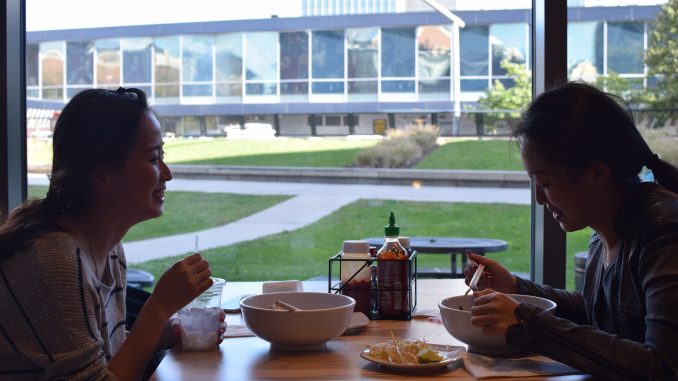 Linda Trinh said Pho Ha Saigon specializes in comfort food.
Trinh is the manager of the restaurant's newest branch, which opened on Oct. 10 under the Edge on Cecil B. Moore Avenue near 15th Street. The restaurant has two other branches, one in South Philadelphia and in Lawncrest.
"It's cold outside today and I just want to eat something to warm me up," said Edith Tang, a sophomore accounting major.
Tang said her favorite dish from Pho Ha Saigon is the "pho ga," or pho with chicken.
Pho Ha Saigon serves "authentic" Vietnamese food, Trinh said. Temple's restaurant offers staple items from the other locations' menus. Trinh said the dish they're best known for is "pho" ­— a noodle soup served with a choice of meat, rice or egg noodles, chicken or beef broth, Thai basil, scallion, cilantro, bean sprouts, lime and jalapeno.
Students can also customize traditional dishes with build-your-own options for "pho" and "vermicelli" — a rice bowl served with a choice of meat, lettuce, mint, cucumber, homemade pickle daikon, scallion olive oil and peanut topped with fish sauce. There is also a build-your-own option for rice platters.
The restaurant offers the choice of peanut sauce, hoisin sauce and fish sauce to accompany its dishes, all of which are made fresh in house and on a daily basis, Trinh said.
Ha Diep, Trinh's mother, created all of the recipes offered at the restaurant's locations. Before becoming a co-owner of Pho Ha Saigon, Trinh said Diep operated a truck selling fruit and smoothies on Main Campus when she moved to America from Vietnam in 1986.
"She wanted to come back somehow on campus," Trinh said. "It's reminiscent of her past. She started out with nothing and it grew more and more."
The name of the restaurant is a play on Diep's first name and the Vietnamese city she grew up in — Ho Chi Minh City, which is also known as Saigon.
Pho Ha Saigon's two other locations are full-service, sit-down restaurants. Trinh said, to appeal to college students and create a more modern feel, the location on Temple's campus offers touch-screen kiosk ordering.
Trinh said Pho Ha Saigon has "something for everyone." There are vegetarian options, like smoothies and vegetable summer rolls, and ingredients that typically cause allergic reactions are kept separate from others in a "mindful" process, Trinh said.
Amanda Nguy, a sophomore neuroscience major, is a cashier and hostess at the restaurant. She said the kiosk service and customers' ability to customize their orders makes the restaurant ideal for people who have never eaten Vietnamese food.
Nguy is half-Vietnamese and said Pho Ha Saigon stays true to the style of traditional Vietnamese food.
"Spreading cultural awareness is always a good thing," she said.
"It's definitely a lot more comforting to know there's a place I can stop by during the week when I'm here if I was feeling homesick," Nguy added. "There wasn't a spot [before] where I was like 'This is something my family would make.'"
Grace Shallow can be reached at grace.shallow@temple.edu or on Twitter @grace_shallow.