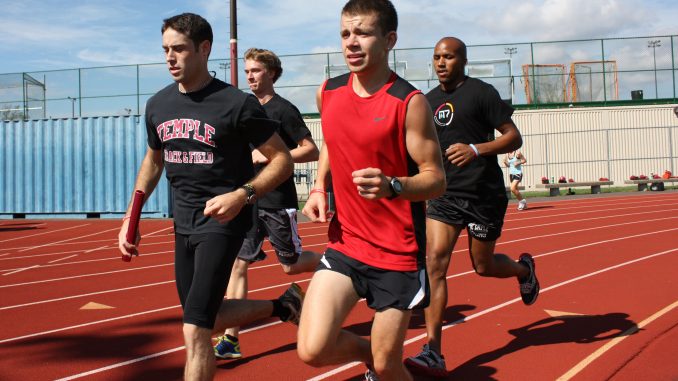 The men's and women's cross country and track teams find themselves in a state of flux as the student-athletes await the announcement of a replacement for coach Matt Jelley, who resigned from Temple to take a position at the University of Maryland on Aug. 8.
Track & field coach Eric Mobley said he has multiple candidates for the position, but as of now, the position remains vacant.
When asked about a timeframe in which a hiring would occur, Mobley jokingly said he would have preferred to "hire somebody yesterday."
Mobley said the coach will be in place before the team's first meet at the Friend Invitational on Sept. 15, and "hopefully" sometime this week.
In terms of what he's looking for in Jelley's successor, Mobley said he does not want someone who will provide a complete overhaul.
"I want to make sure they do their due diligence and try to find out what was successful for some of the athletes and kind of incorporate that with their train of philosophy," Mobley said. "And then, as time goes on, you make more and more changes."
That said, Mobley expects the coaching shift to have some effect on the teams this season.
"It's always huge to have that transition," Mobley said. "You've got some students that have only had one coach through all of high school and college. All they've known is that previous coach."
Mobley remains confident, however, that whomever he brings in will have a similar mentality as the rest of the coaching staff. If he can find that person, Mobley said, "we shouldn't skip a beat."
Redshirt senior Travis Mahoney spent the past four years with Jelley on both the cross country and track & field teams. Mahoney said it's too early to tell what Jelley's departure will mean for the team.
"That's something we'll find out this season – maybe even into next year," Mahoney said. "What [Jelley] did with us isn't going to drop into the gutter in just a couple weeks though."
Like Mobley, sophomore Jenna Dubrow, who in her freshman season last year emerged as the star of the women's team, voiced motivation toward winning the conference this fall.
"We're going to be more bonded together," Dubrow said. "We know each other better, and since this is our last year in the [Atlantic 10 Conference], we were all talking about how we really want to have a good showing."
Like Mahoney, Dubrow is taking a wait-and-see approach before determining what variances, if any, will come with a new coach.
"Right now, it's not affecting anything," she said. "We still have our summer schedules that we're still on. The changes could be anything – it could be a different style of training. There's a whole bunch of factors."
Sophomore Matt Kacyon, who similarly to Dubrow emerged as one of the top performers on the men's squad last year, pointed out that the team has a particularly strong group of freshmen coming in, which should help them going forward. He doesn't expect any significant differences from a new coach.
"There shouldn't be too much change," Kacyon said. "We're all where we should be, and training wise, we know what we're expected to do. We're pretty much just losing a really good friend – and a great coach."
Both Kacyon and Dubrow said that, having experienced time in collegiate athletics, their expectations are higher than last year for the upcoming season. Mobley hopes that an early season rise to the top will provide some motivation going forward.
"As we bring in freshmen who can challenge for some spots, our goal is to push our top athletes to take it up another level and bring some of the other athletes who were on the team up to that same level," Mobley said. "When you rise to the top, we're expecting you to stay up there and bring other athletes with you."
Mahoney said it's the incoming class, not the departure of Jelley, that he'll be focusing on moving forward.
"By far, we have the deepest talent pool coming into this season," Mahoney said. "If all goes well, and we get a good coach, this fall we can improve drastically in both the region and in the A-10's."
Avery Maehrer can be reached at  avery.maehrer@temple.edu or on Twitter @averymaehrer.