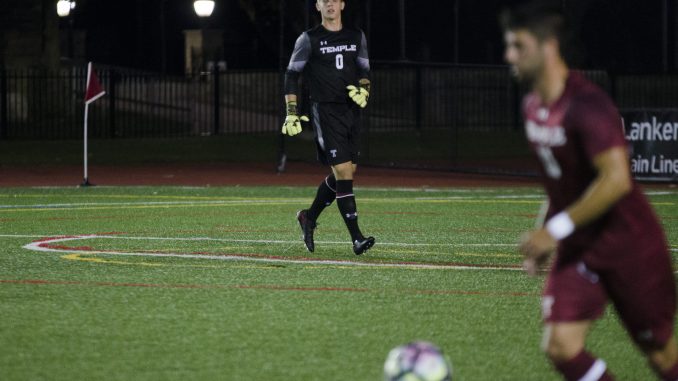 Redshirt-senior defender Mark Grasela lined up to take a penalty kick in the 43rd minute of Temple and Villanova's so-far-goalless match.
He took the shot and Villanova's redshirt-senior goalkeeper Will Steiner made the save. But Grasela got the rebound and scored the game-winning goal — the first of his Temple career.
Persistence was key for Grasela and the Owls in Temple's 1-0 victory against Villanova on Tuesday at the Higgins Soccer Complex in Villanova.
"I thought the game went very well," coach David MacWilliams said. "We had a gameplan and the guys executed it very well. It worked for us tonight."
The Owls ended their first win of the season with 13 shots, seven of which were on goal. Grasela led the team with three shots while five Owls had two shots each.
After a 3-1 loss in the season opener on Aug. 25 against Saint Joseph's, MacWilliams didn't want to give up any goals, and his team listened. The Owls recorded their first shutout of the season. Redshirt senior-goalkeeper Alex Cagle ended the night with three saves on 10 shots.
"We talked about having a clean sheet on defense," MacWilliams said. "We didn't give up many good chances and to do that against a good team like Villanova was great. And the chances we did give up, Cagle came up big."
MacWilliams said it was nice to steal one from the Wildcats on their home field. He considers the win to be big for Temple because Villanova went 10-8-3 last season and played in the NCAA tournament.
The Owls have one more away game before they debut at home. The team will play the University of Delaware on Thursday at 2 p.m. in Newark, Delaware.
The Temple Sports Complex, however, will be just a brief stop, as five of Temple's first six games are away.
While being on the road can be draining, it can also have a positive effect on the team.
"These away games are a good way to prepare us," MacWilliams said. "They help build our confidence. The guys know Villanova is a very good team, so to go to their field and beat them, that's good. Now, we just have to keep this momentum going."