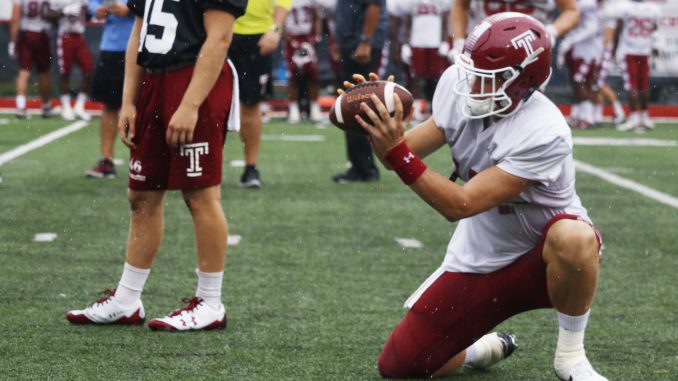 Every quarterback on Temple's roster has been preparing like he will receive the first snap against the Fighting Irish on Saturday.
The four quarterbacks who competed for the job — redshirt freshman Anthony Russo, redshirt junior Frank Nutile, redshirt sophomore Logan Marchi and freshman Todd Centeio — were all listed on coach Geoff Collins' Above the Line depth chart leading up to Notre Dame.
"I had a feeling that this was going to be a tight one because all four of us are good quarterbacks," Russo said. "So I think, like I said to other guys, we're kind of preparing as if we are the starter. We don't know who it is going to be, we don't who whose number is going to get called at what time, but we're just making sure we're ready for that moment when it comes."
In portions of practice open to media during preseason camp, Nutile and Marchi have taken reps with the first-team offense. Collins said he rotated quarterbacks with different offensive groups throughout practices.
Though the competition has been tight amongst the quarterback group, Nutile and Marchi have remained close friends throughout the process, Collins said. The two spend a lot of time together to improve their games, including in the film room.
Collins said after practice on Aug. 24  that he could play up to three quarterbacks in the opener. And if that's the case, Nutile thinks they've been preparing for that scenario throughout the whole offseason.
"All summer we've been splitting reps with each other, going in and out rotating," Nutile said. "So I think we've kind of gotten into that groove, and I think we're really not too worried about it if that's the case."
Notre Dame skill positions
Like Temple, Notre Dame will play a first time starter at quarterback in junior Brandon Wimbush.
Wimbush, a Teaneck, New Jersey native and four-star recruit, according to Rivals.com, hasn't seen game action since his freshman year in 2015.
At 6-foot-1 and 228 pounds, Wimbush is a big quarterback with athletic ability, sophomore cornerback Linwood Crump said.
But redshirt-sophomore cornerback Kareem Ali wants the defense's presence known in South Bend from the first snap.
"I know he can run, I know he has a big arm and I know he's not really accurate, so honestly we're going to get in his face and we're going to make it known we're there," Ali said. "He can be dangerous though. He can be dangerous but he ain't scaring nobody."
Junior running back Josh Adams will line up in the backfield behind Wimbush. Adams rushed for more than 800 yards in each of his first two seasons at Notre Dame. He also holds a few rushing records at the program, including the single-game record by a freshman with 168 yards against Stanford University in 2015.
Notre Dame will also return two of its top three receivers from 2016. Junior wideout Equanimeous St. Brown led the team in receptions last season with 58 for 961 yards and nine touchdowns, while sophomore wide receiver Kevin Stepherson came in third with 25 catches for 462 yards and five touchdowns.
Crump said the length of Notre Dame's wide receivers was the one of the main things that stuck out about them on film. The Fighting Irish have 10 wide receivers who are at least six feet tall.
"We just see that Notre Dame's wide receivers are tall," Crump said. "They're pretty big, they're mostly all of possession receivers, but right now we're still feeling them out and it should be a good game."
Familiar faces
Though Temple has only played Notre Dame twice in program history, the Owls will face some familiar opponents on Saturday.
Chip Long, Notre Dame's offensive coordinator, held the same position at Memphis last season. The Owls allowed more than 300 yards in total offense in their 34-27 loss to Memphis in 2016.
"I can honestly remember a lot of screens," Ali said of the Memphis game last season. "They like to run the zone read…We don't really know what [Notre Dame] got until we go out there. It's kind of hard with the first game, but we're ready. We're going to make sure we're over prepared just so nothing throws us off guard."
Notre Dame's defensive coordinator, Mike Elko, held the same position at Wake Forest University in 2016 when Temple lost 34-26 to the Demon Deacons in the Military Bowl.
Collins said he's been a big fan of the defensive coordinator.
"I think he's as fine of a defensive coordinator as there is in college football," he said of Elko. "And so I've watched his tape, even when he was at Bowling Green [State University] and obviously Wake Forest and then at Notre Dame now. And I think he's a great play caller, and the thing I think he does really well is plays to who he has on the team and what they can do well."