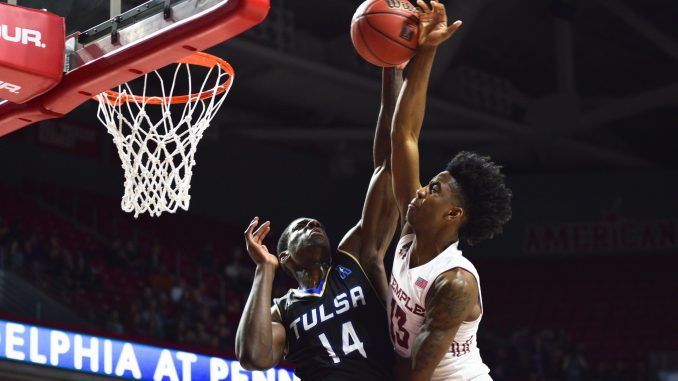 Coach Fran Dunphy could have been mistaken for a cartoon character while pacing the sidelines during Temple's 70-68 loss to Tulsa on Saturday.
Each turnover or ill-advised foul seemed to turn Dunphy's face redder and redder. All that was missing was some steam coming out of his ears.
Saturday's loss dropped the Owls' record to 1-5, six games into American Athletic Conference play. The team hasn't  had a worse start to its conference season since losing its first seven conference games during the 2013-14 campaign.
"People know how to play us and are doing some things to us that we have to make better adjustments to, and so we're struggling right now," Dunphy said.
Seasons like this have been uncommon in Dunphy's tenure at Temple.
In Dunphy's first season in 2006, the Owls went 12-18. During the next nine seasons, Dunphy's teams only finished with fewer than 20 wins once when the Owls went 9-22 during the 2013-14 season.
Sitting at 10-9 with 12 games left before the conference tournament, this year's group is in danger of finishing below the 20-win mark again if it doesn't make a late-season push. Temple's had success down the stretch during its last two seasons.
After a 3-3 start in The American during the 2014-15 season, the Owls won  10 of their last 12 games. Last year, Temple started 4-2 in conference play before winning 10 of 12 league games to finish with a 14-4 record and win the conference's regular season title. If the Owls can repeat that trend, they'll end the season 20-11.
"I think that just comes from the leadership, guys that have been here before and have made that comeback in conference play," junior forward Obi Enechionyia said. "I think it's just about leading the freshman and the other guys, letting them know it's not over. We still have a lot of time."
The Owls' season has been a bit unusual in the opponents they've lost to and beaten. During its five-game win streak in late November and early December, Temple took down West Virginia University and Florida State University, which are both ranked in the Top 10 of the Associated Press Top 25 Poll.
The Owls also have losses to Connecticut, George Washington University and the University of New Hampshire, which are all ranked outside the top 130 teams in the Ratings Percentage Index.
Aided by their five-game win streak, the Owls came into American Athletic Conference play with a 9-4 mark. They're now 10-9 after losing five of their first six conference games.
"We didn't expect to start off this slow, but like Obi said we have time," sophomore guard Shizz Alston Jr. said. "I know last year we put together like six straight wins. I feel like this team can do it now, seeing them play well in non-conference play. I think that we can get on a run now, make a push."
Before Saturday's two-point loss, the average scoring margin in Temple's conference games was 15.4 points per game. Three of the Owls' five conference losses have been by 14 or more points. Temple's only win was a 19-point victory against East Carolina.
Temple only had two double-digit losses in regular season conference play last year, and only three of the team's 14 wins were by double digits.
Enechionyia said he expects more close games like Saturday as the team closes out its season.
"I'd like to win every game by a huge margin, but that's not the type of team we are," Enechionyia said. "It's going to go down to the wire more times than not. We just have to learn to play with the pressure, pull through with the win."
Owen McCue can be reached at owen.mccue@temple.edu or on Twitter @Owen_McCue.