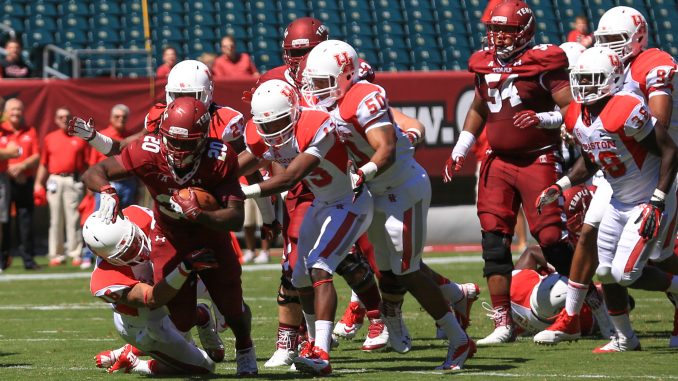 Despite a number of red zone stops by their defense, the Temple Owls lost their home opener against the Houston Cougars 22-13 on Saturday afternoon.
"It was a great football game going back and forth," coach Matt Rhule said. "I obviously wish we would've won the football game. I'm disappointed for our players."
Offensively, Temple (1-1) registered a total of 300 yards on 200 passing yards and 100 rushing yards. Houston (2-0) gained 524 total yards consisting of 305 passing yards and 219 rushing yards.
"I thought overall, as a whole offense, they just weren't in sync and in rhythm enough during the day," Rhule said. "We just couldn't put enough plays together".
Junior quarterback Connor Reilly completed 20 of 34 passes for 200 yards and no touchdowns. Reilly was responsible for each of the Owls' turnovers, throwing two interceptions and losing one of two fumbles. Reilly was also sacked three times.
"I didn't protect the ball today and that was a main concern," Reilly said. "We just have to score more points. That's on the offense. That's on myself. As a unit, as a whole, we just need to put the ball in the end zone more".
Junior running back Kenny Harper scored both of Temple's touchdowns on short goal line runs. The duo of Harper and freshman running back Zaire Williams combined for 108 rushing yards. Harper was also tied in receptions with senior receiver Ryan Alderman, hauling in five catches each. Alderman led all receivers with 65 receiving yards.
For Houston, quarterback duties were split between freshman John O'Korn and junior David Piland, who completed a combined 29 for 48 passes, totaling 295 yards. Sophomore running back Ryan Jackson gained 109 yards on the ground, scoring the Cougars' lone touchdown.
Temple's kicking game continued to struggle as freshman kicker Jim Cooper failed to convert an early extra point attempt which forced senior punter Paul Layton to assume the kicking duties, but he also struggled. Houston's kicker Richie Leone accounted for 15 of the Cougar's 22 points, converting all five of his field goal attempts.
Defensively, the Owls were stout in the red zone, stopping six Houston drives from ending in touchdowns, including forcing two turnovers. Senior defensive back Abdul Smith led the Owls with 12 total tackles, with two for a loss, along with sophomore linebacker Tyler Matakevich who recorded 11 tackles.
"[Houston] had 96 plays, they had a lot of yards [but] I think our defense gave us a chance, kept them out of the end zone," Rhule said. "[The defense] just gave us a chance to win the football game."
On the first play of the game, Reilly attempted a deep play action pass, but was intercepted for his first turnover of the day.
Following empty possessions by both teams, Houston's offense went on a 12-play drive, ending with a 40-yard field goal, putting the Cougars ahead 3-0 with 6:33 remaining in the first quarter.
Temple responded with a drive of their own, covering 91-yards and ending with a Harper one-yard touchdown run. With 1:29 remaining in the first quarter, Temple led 6-3 following a missed PAT by Cooper.
In the second quarter, the Cougars sustained two long drives but were turned away by the Owls' defense near the goal line on both occasions. Both Houston drives led to 19-yard field goals, giving the Cougars a 9-6 lead with 4:40 remaining in the half.
Temple ended the first half with an 11-play 76 yard drive that resulted in Harper's second score of the game, punching it in from three yards out. Layton's extra point gave Temple a 13-9 lead going into halftime.
Houston's first possession of the second half resulted a 24-yard field goal, cutting the Owls' lead to 13-12.
On Temple's first play of the half, Reilly lost a fumble, giving the Cougars possession in Temple territory. Again, the Owls' defense stopped Houston with stopping fourth down tackle by Smith, resulting in a goal line stand and forcing a turnover on downs.
"[Smith] is doing an excellent job," Matakevich said. "He just comes flying up when he sees run. It's definitely a good quality for the defense. Definitely good to have a guy like that on the field."
Following an Owls' punt, Houston was kept out of the end zone again, settling for another short Leone field goal. The field goal gave the Cougars a 15-13 lead with 5:33 remaining in the third quarter.
Shortly after Temple missed a field goal, freshman Tavon Young forced a fumble on defense, recording Temple's their first takeaway of the season, and the Owls regained possession.
With 8:16 remaining in the game, after a called back Houston touchdown, Smith forced O'Korn to fumble in the red zone and Temple recovered the loose ball.
Reilly and the Temple offense began to drive down the field, until Reilly was taken down awkwardly in the backfield, injuring his leg in the process. Senior quarterback Clinton Granger would sub in at quarterback, but his incomplete pass led to a punt with 5:46 remaining in the quarter.
Following a Houston punt with 2:30 remaining in the game, Reilly would return to the game and throw his second interception of the day, which would result in a Jackson touchdown run for Houston. With 1:06 left to play, Houston led 22-13.
Temple's last drive resulted in a turnover on downs, followed by Houston kneeling the ball on their next possession to run out the clock.
"I'm not one to make excuses but I do take heart in fact that this is all a process," Rhule said. "I want them to be successful because they deserve to be. We just weren't on enough today".
Brien Edwards can be reached at brien.erick.edwards@temple.edu or on Twitter @BErick1123.