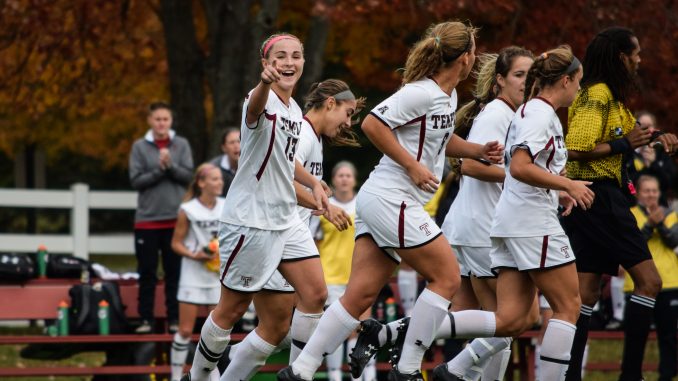 Kelly Farrell is on cloud nine.
The senior striker scored a career-high three goals to help Temple (8-2) cap a four-game winning streak heading into American Athletic Conference play as the Owls defeated Saint Joseph's, 3-1, Sunday at Ambler Soccer Field.
Farrell's game Sunday came two days after her seven-game scoring streak was snapped when Temple defeated La Salle, 3-0, Friday for the first time since 2002.
The 5-foot-4 inch Sicklerville, New Jersey native credited her bounce-back performance to the support of her family, who showed up in full force Sunday.
"I'm in the best mood ever because my whole family was here," Farrell said. "I have three brothers and a sister, so it's usually at least my parents and one sibling there, but today they were all here so that was really cool."
Coach Seamus O'Connor said Farrell was critical of her play during Temple's film session Saturday, a day removed from her first game without a goal in 2015. Farrell had four shots, with two on goal and one that hit the right post.
"She was just really tough on herself, like yelling at herself and telling me I should play her on defense from now on because she sucks up top and I need to start looking at her as a defender," O'Connor said.
O'Connor said Farrell was joking, but he wouldn't dream of changing her position, as she leads The American in goals scored this season. The senior's 11 goals through nine games are two more than she had in 20 games last season.
For the second game in a row, Temple scored its first goal in the seventh minute, a breakaway score from Farrell assisted by senior midfielder Shannon Senour, but failed to add another tally before halftime.
"I think it's just hard to transition from last year where if we went up 1-0, we shut down and we defended for the rest of the game, but we don't want to do that this year," O'Connor said. "We don't want to have to sit back and defend for the whole game. We're good enough to go up 1-0, then 2-0, then 3-0, so I think it's just trying to get them to change from what happened last year."
Six minutes after Saint Joseph's scored to tie the game in the 53rd minute, Farrell notched her second goal of the day, assisted by a through ball from senior defender Paula Jurewicz.
Farrell added her third and final goal in the 69th minute when she capitalized on a lead pass by junior midfielder Elaine Byerly.
"I just couldn't be any more proud of Kelly," O'Connor said. "She really got targeted today and she got some fouls on her that I just wasn't pleased with, but I just kept telling her, 'Hey, don't think about anything but your job. You're job is to go score. That's how you quiet people down.'"
Tom Reifsnyder can be reached at tom.reifsnyder@temple.edu or on Twitter @Tom_Reifsnyder