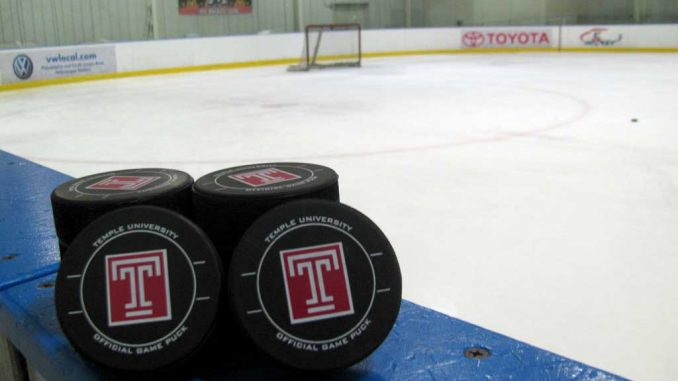 Though Temple ice hockey has the word "club" attached to its name, the team's management and players' daily grind resembles that of any NCAA sport at the university.
Members of the ice hockey club receive no academic benefits. They have to pay for the majority of their equipment and apparel. They attend class and study for exams like any other college student.
But they play hockey too, while maintaining a devotion that mirrors any student-athlete dressing for one of Temple's 22 NCAA teams.
Club teams at Temple are generally run by the members themselves and assisted by Campus Recreation. Running and maintaining a hockey team, however, is not a simple task.
Cost and Funding
As coach Jerry Roberts put it: "Hockey is expensive."
Campus Recreation provides a fraction of a club team's expenses, and the club is responsible for all other fundraising, Director of Campus Recreation Steve Young said. The ice hockey club receives the largest piece of Campus Recreation funds annually, and the allocation increases every year. Campus Recreation provided $23,100 to the ice hockey club this year, a $1,100 increase from last season.
The players then chip in with player dues divided to $2,600 per player before the start of the season, Young said.
Player dues include funding for uniforms, pads, helmets, sticks, and other equipment and accessories required for the average hockey player.
Though Campus Recreation provides the money for minor equipment such as pucks for practices, most of the equipment expenses and duties fall on the players.
"It's expensive," assistant coach Ryan Frain said, who played from 2006-11. "From when I started seven years ago, it goes up every year because we usually add things. We work with the players and Campus Recreation helps with [the expense]."
The club takes part in fundraising every year to help lessen the financial burden that comes with playing on a hockey team.
Ticket admission to home games is $3 for adults. Temple will hold its annual alumi game on Feb. 9, 2013, when each Temple participant pays $250. The most significant piece of fundraising is the Philadelphia Flyers' raffle, which includes top prizes of box seats to Flyers' games.
Campus Recreation will also potentially sponsor one or two fundraisers for all club sports, Young said. Team apparel is bought in bulk and redistributed online by Under Armour.
The club raised $11,000 last year, the most the team has ever raised.
"[The expense] is the nature of ice hockey," Roberts said. "A lot of the players that we pull come from junior teams where they're paying anywhere from $7,000 to $10,000 for the season. Other players are looking at $3,000 to $5,000. Hockey's an expensive sport and everyone knows it going in."
"It fluctuates with what we've done," senior defenseman and captain Jordan Lawrence said. "We've traveled more and we have different gear for players that are better quality each year. Campus Recreation operates at a budget and although they help a lot, we do have to come up with a lot of the money."
Facilities
Northeast Skate Zone in Northeast Philadelphia was first opened in 2002 and housed Temple ice hockey as its original tenant. The Owls remain there to this day, with few problems, Roberts said.
"We couldn't be happier with Northeast," Roberts said. "They give us a ton of schedule flexibility and they work with any requests that we have. It's our home and we would never consider leaving."
The Owls enjoy priority ice time at the Northeast Skate Zone, which is also home to youth hockey clubs and is used to host Flyers' events. Temple usually fills the 9 p.m. slots on Friday and Saturday nights.
Temple banners marking past conference championships and other achievements decorate the walls while the Temple logo is displayed at the rink.
Campus Recreation provides an ambulance service for every home game, which requires an emergency medical technician on-site. A team trainer and a CPR certified supervisor is also in attendance, in case of sudden injury.
Despite the friendly confines at Northeast, it comes at a price. Ice time is costing the team $27,000 for 73.5 hours this season at $370 per hour, not including the postseason.
"Ice is not cheap," Roberts said. "The typical rate for any facility is between $300 to $350 an hour and refrigeration systems are extremely expensive to run. Making ice and maintaining ice is [expensive]."
On top of the cost, there is the issue of transportation.
Northeast Skate Zone is located approximately a half hour away from Temple's campus. The club practices twice a week, and usually plays twice on the weekends on Friday and Saturday nights.
"A lot of the D-I sports have facilities on campus while we have a half hour drive to ours," Lawrence said. "We have to drive a half hour to practice and games and it's a big commitment."
For a team to be considered NCAA eligible, it must have a men's team, women's team and an on-campus facility.
With these restrictions, club hockey has thrived as a result.
Recruiting
The American Collegiate Hockey Association, the governing body of club hockey, allows recruiting to a certain extent, with restrictions in place.
A coach cannot recruit a player from another university, Roberts said. A coach or club is also forbidden from offering financial assistance to a player specifically for ice hockey in the form of a scholarship, grant or financial aid.
With no incentive option available, a coach at the ACHA D-II level must sell themselves based purely off of the school and team, Roberts said.
"A lot of people call recruiting advertising," Roberts said. "We don't have anything to offer to anyone other than [an] opportunity to play ice hockey. It's competitive. I'd say 100 percent of the time, every player we've spoken to in my time here has been in contact with at least one other ACHA school."
"We go to a lot of [prospective recruits'] games," Roberts added. "We speak to coaches and meet with the families. We try to engage the coaches of the players as much as possible because they have constant contact with players. We've found that if we can convince the coach that a certain player is the best fit to come to our school, the coach can be the bug in the player's ear and can push that player toward Temple."
The glamour and stature that comes with the NCAA brand, coupled with the relatively small number of D-I and D-III schools forces many collegiate-hopeful players with NCAA dreams to come to terms with reality.
It's situations like those where club hockey members such as Temple tend to pounce.
"People associate club hockey as being something that's casual and not really that great," Roberts said. "They think of it as a glorified beer league and it's far from it. We come in with the sales pitch that we can offer a very similar experience to the NCAA experience."
"[D-III schools] are small, especially up in the northeast region," Frain said. "I haven't heard of half of these schools that these guys go to. When guys get out of college and are looking for a job, it's better to go to a school like Temple and play a sport than a small school where nobody's heard of it."
The Players
Club sports are unique in that the players govern themselves, within a structure. Each club team has a set of officers who are in charge of certain duties within the club, Young said.
In addition, the players in each club write their own constitution each year, basing it off of an outline given by Campus Recreation with a certain set of rules that must be included, Young said.
"The students run the club," Young said. "We have to sign off on [the constitution] to make sure it's got the right language in it and that it's fair."
The officer positions cover a number of duties each club team must fulfill, varying from sending checks to Campus Recreation, budget handling and the newly implemented position of safety officer held by senior forward Sean Nealis, requiring a player on the team to be CPR certified.
Lawrence is team president on top of his captaincy duties, and senior defenseman Matt Benedetto is vice president and treasurer.
"I take more of the hockey-related things," Lawrence said. "I make sure Campus Recreation has everything they need and at the same time that our team runs smoothly."
Players are eligible to play for five years in the ACHA, and while that may seem like a long time for some, the former star-player turned coach Frain said he feels otherwise.
"I loved it," Frain said. "It's a huge family and you spend so much time together. You go to class together, you go to lunch together during the day and things like that. I spent more time with these guys during that time than I did around my family."
"If I could've played 10 years, I would've stayed an extra five," Frain added. "It was really hard to gradually know that you're not going to play competitive hockey like that anymore. I stress to the guys to not take this for granted because I saw it and guys I played with saw it that by the time you're a senior, it's gone like that and there's no going back…I'd go back in a heartbeat."
Andrew Parent can be reached at andrew.parent@temple.edu or on Twitter @daParent93.