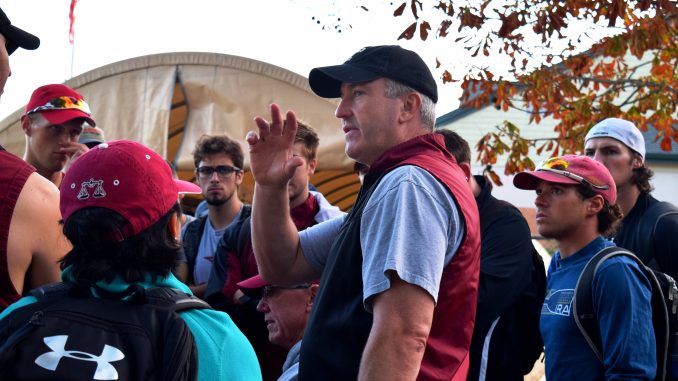 Everyone knew, except Brian Perkins.
At least, it seemed that way to to the longtime Temple crew assistant.
Perkins sat inside the office of Athletic Director Pat Kraft with Senior Associate Athletic Director Larry Dougherty, not sure what to expect.
"I went in like I was going to court," Perkins said. "I had facts and figures, defending my position, and at one point Kraft turned around to Larry and said, 'He doesn't know why he is here, does he?'"
Kraft named Perkins the crew team's head coach in June, making him the third coach in school history after Gavin White retired at the end of the 2015-16 season. White spent 37 years at the helm of Temple men's crew, and Perkins will continue an unofficial tradition.
Perkins competed for White from 1988-92, but it is not the first time a rower transitioned into a coach for the Owls.
From 1971-73, White rowed under Tom "Bear" Curran, the first-ever Temple crew coach. After serving as an assistant coach after graduation, White took charge following Curran's retirement in 1979.
In a familiar scenario, Perkins helped win two Dad Vail Regatta Championships under White during his time as a student-athlete. He earned the Gavin White Academic Award while serving as team captain his senior year in 1992.
"It is very exciting," Perkins said. "Through the head coaches changing, there is still a touchstone to the past and the beginning of Temple crew."
Perkins is keeping his same office after serving as an assistant coach for the last six years. A small room with white walls and no windows sitting on the second floor of Pearson Hall, Perkins said he wouldn't change it for a thing. Well, maybe for an office in the Owls' newly renovated East Park Canoe House, he said.
After 28 years of knowing one another, the former assistant coach recalled the first time he met White in the fall of 1988.
"I was a senior in high school and I still have the hand-written letter of him encouraging me to come to Temple," Perkins said. "I remember a lot of it, even the tough love because I was a bit of a knucklehead sometimes."
During his tenure as coach, White's boats won 20 Dad Vail Varsity 8 titles, including 13 consecutive titles from 1989-2001. In his final season, White's team earned a trip to the IRA National Championships in Windsor, New Jersey for the first time since 2008.
White was diagnosed with Parkinson's Disease in 2002, so he knew this past season would be his last. With a long history in rowing and newly found free time, White will continue with Temple as Coach Emeritus.
"Brian is one of the smartest guys I have ever coached," White said. "He is a great choice."
White will continue as a mentor from time to time for the young team, which lost 17 seniors to graduation. The team is coming off its first Dad Vail varsity eight medal in eight years.
With four varsity eight rowers returning from last season, the Owls are making minimal changes with Perkins in charge.
"When you are going from Gavin to Brian, there is not much different," senior coxswain Dante Romeo said. "Gavin was, 'This is the way we are going to do it.' Brian is willing to accept the ideas we present to him."
From rower, to assistant, to coach, Perkins adapts like he always did at Temple.
With another season behind him, Perkins told his team there are expectations. As Perkins follows in his former coach's footsteps, he looks to continue a pattern of success.
"Sometimes I lay in bed, I stare at the ceiling and wonder what I am going to accomplish," Perkins said. "Gavin is a tough guy to follow, he has coached long time and had a lot of success. I want to be able to do that."
Connor Northrup can be reached at connor.northrup@temple.edu.