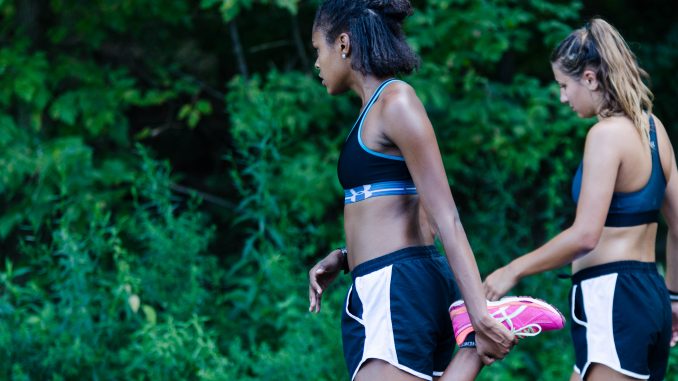 When she arrived at Temple two years ago, Ashton Dunkley had no idea she could be on a college campus for more than four years.
"My career plans pretty much involve college because I want to be a professor," the junior track and cross country runner said. "I have loved every second I've been here."
Before she attends graduate school elsewhere and becomes a professor, Dunkley still has unfinished business at Temple.
Last year was a strong year for Dunkley. It included a personal-best time of 23 minutes, 11.6 seconds in a 6,000-meter at the American Athletic Conference Cross Country Championships in October. Dunkley placed eighth in the 1,500 at the Delaware Open in April. She finished the 800 at April's Morgan State Legacy Invitational in 2:20.09 to place 11th and set a then personal best. She beat that mark when she ran a 2:16.76 at the Swarthmore Final Qualifier in May.
Dunkley, an anthropology and history major with a minor in Italian, spent six weeks this summer in Rome training while taking Roman history and Italian cinema classes. During her free time, Dunkley found parks and trails to keep up with her training regimen. After her summer experience, Dunkley is coming into this season with a refreshed mindset.
"A lot was expected out of me freshman year and sophomore year, and that can be a little intimidating," Dunkley said. "I have come into junior year really with a whole new perspective. Things aren't really as scary and new anymore being here for two years."
This season's American championship meet will be hosted by Temple at Belmont Plateau on Oct. 28. Dunkley sees this as an opportunity for her and her team to prove themselves as a force to be reckoned with in the conference.
Dunkley is looking forward to the challenge of helping her team perform well in meets leading up to The American championship.
Her willingness to share the Temple experience with recruits and teammates has set the team up for success on and off the track.
"I always joke with her saying she is our top recruiter," coach James Snyder said. "When it comes to hosting recruits and being someone who truly embodies what it means to be a Temple student-athlete, Ashton does a better job than anybody."
At Middletown High School in Delaware, Dunkley earned eight varsity letters in cross country and track, helped her team take second in a state competition as a senior and won the 1,500 in Hershey Indoor Youth National Championship. She became a member of the National Honor Society during her junior year and finished high school with a 3.99 GPA.
In Spring 2017, Dunkley and the women's cross country team recorded an average 3.75 GPA. She looks to couple her academic success with athletic success this year.
"She was more of a leader by example," said Mary Kay Waltemire, Dunkley's high school coach. "The girls would follow her footsteps whether it was practice or in the classroom. Whatever she was doing was always the right thing to do."
Finishing her final two years will be a fun challenge, Dunkley said. Her goal is to finish college with a 4.0 GPA and be a leader and an impact runner for the cross country team. These final two years, however, might not be the last time Dunkley will be on campus. She's not sure where her professional career will take her but would be happy on Main Campus.
"I could be talking too far in advance but, I probably will end up [at Temple] for a really long time," Dunkley said.