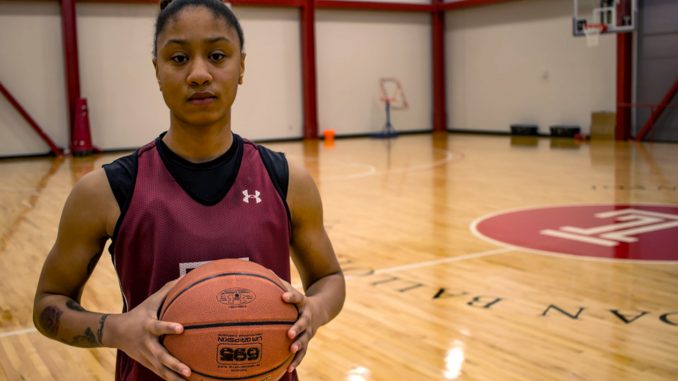 Before Deja Reynolds takes the floor every home game, she scans behind the Owls' bench in search of her mother.
No matter the result, or even if the freshman guard doesn't step onto the court, her mother stays until the final buzzer sounds.
"My mom is my only family," Reynolds said. "She's never going to miss a game."
Reynolds, the only freshman and player from Philadelphia on the Owls' roster, verbally committed to Temple in October 2013 after making an unofficial visit with coach Tonya Cardoza and the team as a junior at Imhotep Institute Charter High School.
The visit only lasted a few hours, but right as Reynolds left the doors of Pearson Hall, her decision was made.
"She went downstairs to the car and told her mom that this is where she wanted to go to school," Cardoza said. "She was one of those kids who wanted to be close to home and have her family come to games."
Cardoza kept an eye on Reynolds before she attended high school when she was a member of the Amateur Athletic Union team Philly Triple Threat.
After Reynolds switched to a different AAU age level, Cardoza lost contact with the guard until her sophomore year at Imhotep, when Reynolds traveled to Washington, D.C. for an AAU tournament and recruiting coordinator Way Veney noticed Reynolds during the game.
"When Way told coach Cardoza about me, she was like, 'That was the player I was telling you about,'" Reynolds said. "Ever since then, they didn't forget me."
In high school, Reynolds became the first girls basketball player at Imhotep to eclipse the 1,000-point mark. She also led the Panthers to  Public League Class AA titles her junior and senior years, snapping a 14-year skid for Imhotep.
Before the start of the regular season, Cardoza considered redshirting the 5-foot-9-inch guard for her to learn from the sideline and have four more years of eligibility.
Due to the chance of injuries occurring during the season, Cardoza decided against it because she didn't want to have a depleted guard lineup at any stretch of the year.
"It's not something we normally do for players anyway," Cardoza said. "I want her to still have in-game experience, and you never know what's going to happen."
Reynolds has seen action in eight of Temple's 20 games this season, scoring six total points and averaging 6.3 minutes per game in the contest she's appeared in.
"If I really pushed myself like I'm supposed to, I would be out there," Reynolds said. "From first quarter to the fourth, to the last minute, I'm still eager to hit the floor."
Sophomore guard Donnaizha Fountain, who sat out last year due to NCAA transfer rules, knows the troubles Reynolds has faced this year.
"She's learning patience and is being a student of the game," Fountain said. "Last year, our freshmen weren't able to be real freshmen a lot of the time because they were needed. She has a chance to learn from our skilled point guards."
Although she sits toward the end of the bench and is put in the game when the outcome is nearly decided, Reynolds still receives praise from her coach.
"Probably her biggest thing is that she's still used to being in high school, where you can just go through the motions a lot of the time," Cardoza said. "She has the talent and skill level, but it's the work ethic she has to improve on."
Mark McCormick can be reached at  mark.mccormick@temple.edu or on Twitter @MarkJMcCormick.