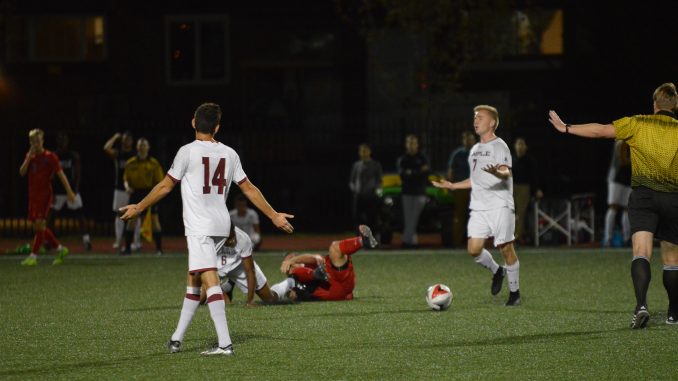 Hermann Doerner stood up to an opponent almost a full foot taller than him.
Despite being one of the shortest players on the team at 5 feet 6 inches tall, Doerner said he wasn't intimidated by the "chippy" game. Temple (6-6-1, 2-2 American Athletic Conference) and Cincinnati (5-6-1, 0-4 The American) combined for 20 fouls and 10 yellow cards in the Owls' 2-1 win on Saturday at the Temple Sports Complex.
"I think I won a good amount of challenges today, of tackles, and that's why I don't think it's a problem at all," the junior midfielder said.
Doerner was one of several players who was visibly agitated. Senior forward and midfielder Joonas Jokinen wasn't one of the four Owls penalized with a yellow card, but he said the players can't let the calls referees make get into their heads.
Early in the first half, the Owls benefitted from one of the yellow cards handed out by the referees.
As junior midfielder Belal Mohammed attempted a shot in the penalty box, he was tripped by Bearcats redshirt-sophomore midfielder Ryan Melink, who received a yellow card.
Jokinen lined up for the penalty kick and scored his third goal of the season to give Temple a 1-0 lead.
Later in the game, Mohamed and redshirt-senior defender Mark Grasela got in the faces of Cincinnati players.
Cincinnati received six of the 10 yellow cards in the game. Freshman defender Darri Sigthorsson, senior midfielder Divin Fula Luzolo, Doerner and Grasela received the other four.
"I don't really know why I got the yellow card," Doerner said. "In my opinion, it wasn't a yellow card. It wasn't even a foul. But that's what the ref decided, and you can't do anything about it."
Conference games determine who makes the postseason, so players will talk to the referee during the game, Doerner said. The Owls are in fourth place in the eight-team league where the top four teams play in the conference tournament. Cincinnati is winless against team in The American and has lost four of its last five games.
Jokinen said in close games like Saturday's, even if players know a call is fair, they may protest.
"Whenever a call doesn't go your way…emotions are high," Jokinen said. "You feel like everything's personal and it gets pretty ugly out there."