Redshirt-junior defensive lineman Dana Levine changed his jersey from No. 51 to No. 17 this season. For Levine, the number has sentimental value.
At the age of 17, his grandfather died. That same year, Levine tore his meniscus.
Levine also wears the number to represent the 17 people who were killed last month in the shooting at Marjory Stoneman Douglas High School in Parkland, Florida.
"I'm from Florida, so my number represents them," Levine said. "Now, I get to put all 17 of those [people] on my back every day I practice. Anything I do, those 17 [people] are with me."
Levine, redshirt-senior defensive lineman Freddie Booth-Lloyd, junior wideout Randle Jones, redshirt-freshman quarterback Todd Centeio and redshirt-sophomore wideout Freddie Johnson, all Florida natives, are organizing a fundraiser for Marjory Stoneman Douglas.
Per NCAA rules, the players will have to coordinate their effort with the athletic department's compliance staff. Senior Associate Athletic Director of Compliance and Student-Athlete Affairs Kristy Bannon Sromovsky has not yet met with the athletes, said Senior Associate Athletic Director of Strategic Communications Larry Dougherty.
"It affected us a lot because we love our state, and to see stuff like that is tragic," Booth-Lloyd said. "For [Levine] to switch his number to 17, that's a big honor for him."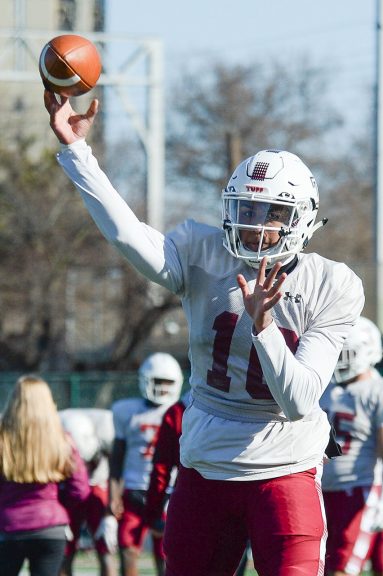 Nikolas Cruz, a former student of Marjory Stoneman Douglas, allegedly killed 17 people and injured at least 15 more with an AR-15 rifle on Feb. 14. Three of the 10 deadliest shootings in modern United States history, including the incident at the Florida high school occurred within the last five months.
On Saturday, people across the globe, including in Philadelphia, participated in March For Our Lives, a walk organized largely by students to call for stricter gun control.
Levine said he would've participated in the march if not for football practice.
"Anything that brings us together, and makes us stronger as one, I'm always with it," Levine said.
Levine's father, a Miami police officer, called him about 30 minutes after the Parkland shooting.
Levine's high school was about a 35-minute drive from the shooting at Marjory Stoneman Douglas. He said he immediately thought about his sister and cousins after he heard of the shooting.
"They could've came to my school and just did the same thing," Levine said. "So that really hurts when you think about it."
Junior linebacker Sam Franklin also spoke with one of his parents on the day of the Parkland shooting.
Franklin said he called his mother when he heard the news to check on her and his cousins. He is a graduate of Citrus High School, which is about four hours from Marjory Stoneman Douglas.
"We're a big community type of program," Franklin said. "So if there's anything that we can do in the community, that's what we do."
Levine said because he's on the football team, he can use his platform to discuss issues that some communities can't.
"We have that ability to be able to go encourage other people to join, and that's what we want to make the fundraising for," Levine said. "We have the voice to speak. So we might as well take advantage and use it, so we can help our communities and whoever's communities that we can help."