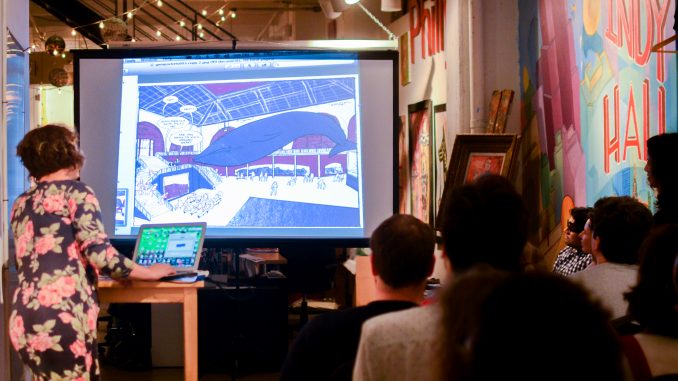 Hila Ratzabi named the Red Sofa Salon, a workshop, after a sofa in her home that many writers have sat on and indulged in the homemade food she provided.

"I had an [Master's of Fine Arts] in poetry and decided that I wanted to start teaching and that's how the Red Sofa Salon was created," Ratzabi said. "I really wanted something that was comfortable and homey."
On Nov. 6-7, the Red Sofa Salon hosted tje first niche show of its kind, called "FULL BLEED: Poetry Comics Show," at Indy Hall in Old City. On Nov. 6, the poems were performed and read while Nov. 7 served as a relaxed get-together on First Friday. The Red Sofa Salon provides  not only coaching for writers hoping to improve their work, but also a community for poets to share their writing.
Ratzabi hosted her first poetry event just a year ago in October 2013, but this was her first time ever curating a poetry comics show. One of her inspirations to curate the show was poet and visual artist Bianca Stone.
"I had known and seen her work in New York, and I always found it so great," Ratzabi said. "When I asked her to perform, a lot of poets came along as well."
FULL BLEED was a show at the Salon where spoken word was simultaneously paired with visual art.
 "The image is not repeating the words that are already there," Stone said. "The art is an additional line to the poem. A poem isn't exactly linear. There are a lot of leaps and spaces where you fill in meaning, that's what the image is supposed to do. Looking at the different works around the room tells you a story and it tells you this in the same way."
Stone said that if she sees a line of poetry alone on a page, she will pair an image with it.
 "It's funny how the image can change the color of the line completely, and sometimes show if the line is bad," Stone said.
Eight total artists were featured in the show, including Emily Ballas and Paul Siegell.
"I like to make my poems groupings of scavenger hunts," said Siegell, a copywriter at the Inquirer and an author. "I usually like to talk about the life in a crazy imaginative city. I started writing when I was 19. I went to a Phish show in Philly and I had this thing in my head, an idea from the concert and I asked myself, 'Should I write this down?'"
Ballas, a local graphic designer who created art to complement Siegell's work, describes her interpretation of the poetry comic genre.
"It's very interpretive," Ballas said. "The illustrations can have their own interpretation. There's an important dynamic between the poet and the artist; it's a visual team. [Siegell] came up to me and showed me a series of poems and told me to design images for whatever ones I gravitated towards."
 "Working with [Ballas] was great – I trust her completely," Siegell added. "What she did blows my mind, the colors are so bright and bold, she really ran with my aesthetic."
Siegell, who recently released a book of his poems called, "wild life rifle fire" uses his poems as a visual in a "poetry comic" style.
"It's all about using poetry in another way," Siegell said. "The book uses poems as a visual, it uses written word as an object."
Annie Mok, another Philly poet and artist who performed at the Salon, is releasing a book of her own titled "Unholy Shapes." The book is inspired by Austrian painter Egon Schiele and includes events from Mok's life.
"My work is a kind of love letter, but it also talks about desire, fear and transwomen in public places," Mok said.
"It's been great," Ratzabi said after the event. "People came and are really interested. I would love to curate something like this again."
Gabriella Lopez can be reached at abriella.lopez@temple.edu