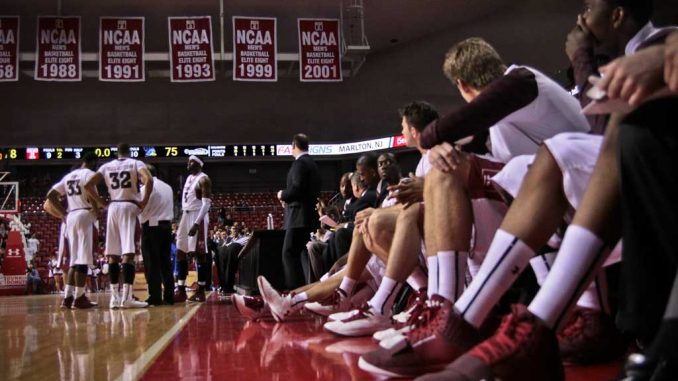 Coming into the season, coach Fran Dunphy had made it clear who would be receiving the majority of playing time and starting minutes at each position on the floor. With his two through five positions being filled with upperclassmen or the previous season's starters, only one question remained: Who would play the point guard spot?
Numerically, the point guard is the '1' position, however, three games into the season, no clear No. 1 has emerged.
Last season, Juan Fernandez started in every game for the Owls at point guard and averaged 32.3 minutes per game. In his absence, sophomore Will Cummings has received the starting nod in every game, yet trails graduate T.J. DiLeo in playing time. Cummings has averaged 16.3 minutes per game compared to DiLeo's 25.6, something Dunphy said he isn't concerned about.
"I think they are a good two-headed monster for us at this point," Dunphy said. "They both do different things."
While the two guards both play the same position, the similarities end there. The different style of play each player brings to the court offers a chance for the offense to perform at different levels. Cummings played sparingly his freshman season, averaging 6.3 minutes a game. While he lacks the experience that DiLeo has, he possesses a speed element not found anywhere else on the roster. With the speed Cummings plays at however, mistakes are more common, something DiLeo has avoided throughout his career.
"With [DiLeo] we know what we are going to get out of him each and every day," redshirt-senior forward Scootie Randall said. "He is not going to hurt us in any way, he is a very unselfish type of guy and he just wants to help the team in any way possible."
Cummings started the second half and played the first four minutes against Delaware on Nov. 25 before sitting the final 16 minutes after committing his third foul. This led to extra playing time for DiLeo, who, for the third straight game, received more minutes despite not starting.
"It doesn't bother me at all," DiLeo said about coming off the bench. "I think it's part of the coaching strategy. I'm happy I am in there, but [Cummings] is a great player and he helps out the team a lot."
Dunphy echoed Randall in describing DiLeo as unselfish.
"[Cummings] made a really nice drive to the basket in the second half, the first guy off the bench to cheer him on is DiLeo," Dunphy said. "It's all about the team for him. If the roles were reversed and Will played 29 minutes and T.J. played 11, you wouldn't hear one word out of him."
Aside from the playing time differential, the players have posted relatively similar numbers. Cummings has 11 points on the season, giving him a higher point-per-minute rate than DiLeo who has posted 14.
The one area they differ is the assist to turnover ratio. For every four assists, Cummings turns the ball over five times compared to DiLeo's one, a number that Dunphy said is more indicative of the player's styles than talents.
"As we go through practices it's usually the same thing," Dunphy said. "With [DiLeo] there is a reliability there, and [Cummings] is starting to get better and understand his role."
"[Cummings'] quickness and his willingness to defend and do whatever it takes on offense is real key to what we are trying to do," Randall said.
Temple's next matchup will be tomorrow, Nov. 28, at Buffalo, and while no indication that Cummings will not start has been made, both players will likely see substantial minutes.
"They are learning every day and I think they are going to be a good tandem throughout the year," Dunphy said. "I am impressed with how they are playing off of one another as well."
Ibrahim Jacobs can be reached at ibrahim.jacobs@temple.edu or on Twitter @ibrahimjacobs.