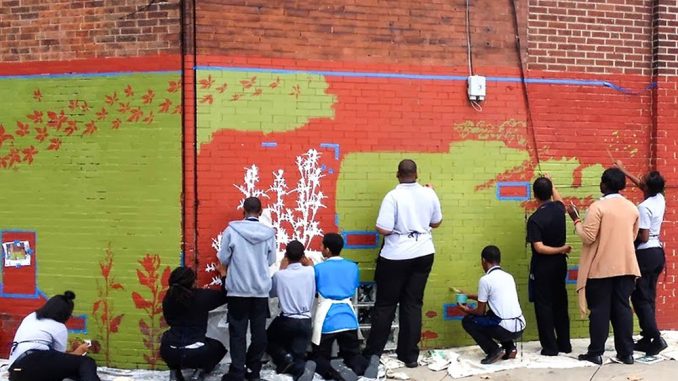 Tree-of-heaven is invasive – it is one of the most common trees in Philadelphia. It also smells like peanut butter.
Botanist Zya Levy and artist Kaitlin Pomerantz tell this to children from Mastery Charter School–Shoemaker Campus, a school in West Philadelphia. The students eagerly rush to the nearest tree to scratch and sniff the fern-like leaves. Through their project called We the Weeds, founders Levy and Pomerantz are attempting to change the way city dwellers view urban plants.
"We want to show people that they don't have to go on vacation or leave the city to experience nature," Pomerantz said.
We the Weeds formed about two years ago. The duo came together over the goal of expanding knowledge of the city's wild plants. Levy contributes as a botanist and Pomerantz as an artist geared toward public displays.
When the two met, Pomerantz had the idea of labeling various plants found in the city as a form of street art. As a botanist, Levy helped her correctly identify the plants, and thus, We the Weeds was born.
Pomerantz began painting both the English and Latin names of plants next to the places they grew in the city. The plants may sit against red brick buildings, twist around chain-link fences in abandoned lots or peek out from cracks in the sidewalk.
"Putting a name to something gives it value," Levy said. "It makes you think about it differently."
While Pomerantz began making botanical labels, which she said she hopes to finish in the spring, Levy contributed the idea of ethnobotanical plant tours, or weed walks. Free, somewhat frequent and open to the public, these are short tours in the city led by Levy and Pomerantz during which they educate people about the plants they encounter on the walk.
The duo started the weed walks unsure of what to expect and were surprised when more than 40 people showed up for the first walk near Chinatown.
"We were only expecting 10," Pomerantz said. "Forty was actually too many, and we were a little overwhelmed."
Levy said the walks are short and only cover about one city block.
"You really can choose really any block in the city, though Center City is harder because it's more manicured," she said. "Just one block gives us enough plant life to talk about for hours."
Through these weed walks and We the Weeds itself, Levy and Pomerantz said they are hoping to raise awareness of urban plant life.
"Teaching people about local ecology empowers them because they have a better sense of their own area," Pomerantz said.
We the Weeds held an ethnobotanical plant tour in Kensington on Saturday, Nov. 16. Levy and Pomerantz post upcoming tours and other events on their website, wetheweeds.tumblr.com.
The recent plant tour was part of a continuing eco-friendly art exhibit called "Me and Earth" at Pile of Bricks, a gallery in East Kensington along the Frankford Avenue arts corridor. The exhibit features at least 20 artists.
Levy and Pomerantz are involved in a number of art projects. Last summer they paired with the Asian Arts Initiative to use the Hot Tea Cart, which served tea made from plants that grow locally for free on Spring Garden Street.
We the Weeds is working on four murals with the Mural Arts Program on 53rd and Warren streets in West Philadelphia. Students at the nearby Mastery Charter School–Shoemaker Campus volunteer to help We the Weeds as part of an afterschool program.
"It's nice to get outside, enjoy the weather and learn about things we don't usually talk about," said Serene Nembhard, a student at the Mastery Charter School.
The murals are relatively simple and feature outlines and names of several plants.
"I really like [Pomerantz's] use of the wall, which is something that is generally covered in murals," Jared Wood, a teaching artist for the Mural Arts Program, said. "She manipulates negative space to not only show the beauty of the painting, but what was there before."
Wood works with the students at Mastery Charter School–Shoemaker Campus and said he supports the ideas behind We the Weeds.
"In the city, it's very easy to believe you're losing touch with the environment," he said. "This project has a positive impact psychologically in terms of how you approach the natural world, and the kids really enjoy it."
Pomerantz and Levy said they hope to continue working with and educating children.
"Children in school are taught to access nature through textbooks, but I realize how important implied natural science is," Pomerantz said. "It's a way for students to have a hands-on relationship with what is around them."
This is the second time We the Weeds has worked with the school. The first time, Pomerantz helped students make their own paper out of old homework, which they turned into seed packets. The packets were then attached to a wall near the school in the shape of a tree.
As time progressed, the seeds fell off the wall and a garden grew beneath the mural.
"The students loved turning garbage into beautiful, colorful sheets of paper," Pomerantz said. "Eventually, we had plants growing."
The mural represents an idea that We the Weeds strives to spread: Humans and plants are connected, regardless of where plants grow.
"We're trying to show people that plants are not just random chaos and a nuisance, but actively participating in our ecosystem," Levy said.
"They clean our air and water," Levy said. "To know plants is to know and have ownership of your area. It changes things."
Claire Sasko can be reached at claire.sasko@temple.edu.